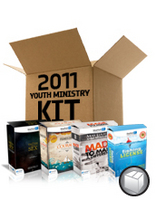 Our hope is that these three Bible studies would encourage students to put their faith in action. It's not enough just to know more about the Bible, we want them to live it out.
Dallas, TX (PRWEB) September 7, 2010
Deep down, everyone wants to make a difference. But it is difficult for students to get past their own issues, problems, and distractions to see that their lives can count right now.
Acknowledging how real and difficult these struggles are to overcome, Bluefish TV has partnered with Max Lucado, Francis Chan, and Doug Fields to create three powerful video-driven Bible studies that resonate with teen culture today.
"Our team is thrilled to work with these three amazing teachers," said Brian Mosley, President of Bluefish TV. "These men come from different backgrounds but each have a powerful message to teach to today's students."
Made to Make a Difference features Max Lucado, pastor and author who has sold over 65 million books. Passionate and convicting, Max Lucado offers Biblical insight into how God has uniquely created students with certain interests and talents to impact the world for Christ. Jenna Lucado Bishop, daughter of Max Lucado and co-author of You Were Made to Make a Difference hosts each session.
Courage features Francis Chan, nationally recognized pastor and author of Crazy Love and Forgotten God. Sensible and engaging, Francis Chan opens up the Scriptures and shows students how their faith in Christ can give them the ability to live lives defined by courage.
The Truth About Sex features Doug Fields, pastor to teenagers and ministry leaders for over 30 years and on staff at Saddleback Church for almost 18. Straightforward and encouraging, Doug Fields offers Biblical insight into how all teens can make right decisions, live within boundaries, and seek God's forgiveness when needed.
Throughout each study, teenagers from across the country share candidly about their struggles and successes in the face of adversity.
Each 4-part video series includes 4 DVDs, 56-page leader's guide, printable group handouts, and free downloadable video illustrations. The Bible studies also include a Bluefish TV Fishing License where youth leaders can choose and download 25 free video illustrations from Bluefish TV's library of over 800 clips.
"Our hope is that these three Bible studies would encourage students to put their faith in action. It's not enough just to know more about the Bible, we want them to live it out," Mosley said.
Made to Make a Difference, Courage, and The Truth About Sex are available to preview and purchase at http://www.bluefishtv.com along with hundreds of other resources for adults and youth.
About Bluefish TV:
Bluefish TV is a non-profit Christian video ministry that has produced video sermon illustrations and small group Bible study resources for youth groups and pastors for over 25 years. Bluefish TV has worked with Christian leaders including Erwin McManus, Louie Giglio, Donald Miller, Todd Phillips, Margaret Feinberg, Beth Moore, Doug Fields, Drs. Les and Leslie Parrott, Mercy Me, Chris Tomlin, David Crowder and Jars of Clay to produce relevant resources for 93,000 churches across the country. Bluefish TV also has a passion and commitment to world missions and has participated in projects around the world to tell missionaries' stories of faith and sacrifice.
You can view full video previews and purchase each small group study and video illustration at http://www.bluefishtv.com. Some Bluefish TV resources can also be found in stores and on the websites of their ministry partners: LifeWay, Cokesbury, Mardels, Family Christian and Simply Youth Ministries.
###