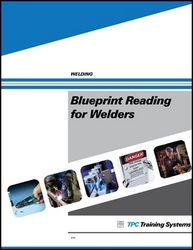 We created the Blueprint Reading for Welders course to ensure Welding Students gain critical skills when confronted with important day-to-day tasks. Andrew Kauser EVP, Product Development
Buffalo Grove, IL (PRWEB) September 14, 2010
Blueprint Reading for Welders was developed based on frequent client requests for a course focused on the fundamentals of reading blueprints for welders. Utilizing welding specialists as Subject Matter Experts, TPC developed the course to meet the needs of industry and deliver relevant fundamental training. As with all TPC courses, Blueprint Reading for Welders makes a point of covering the applicable terminology, technique, theory, and tools.
The Blueprint Reading for Welders course begins by reviewing math and measurement concepts trainees will need in the shop. As trainees continue, they learn the importance and function of blueprints, and are then introduced to various welds, weld joints, and weld symbols they will encounter. The course concludes with a discussion of more advanced math and measurement concepts. The six lessons within the course cover Shop Math and Measurement, Introduction to Blueprints, Lines and Views on Blueprints, Welds and Weld Joints, Welding Symbols, and Advanced Shop Math and Measurement.
With new text, photos, and illustrations, Blueprint Reading for Welders is a welcome addition to the Welding series and can provide welding trainees a head start on learning their trade. To learn more about the new course or to see a preview copy, please contact TPC Training Systems at 800-837-8872 or sales@tpctraining.com.
About TPC Training Systems
TPC Training Systems is a division of Telemedia, Inc. a privately held company, with headquarters in Buffalo Grove, IL. The company is a leader in industrial skills and safety training. TPC offers a variety of products and services, including both self-study text and elearning programs, and instructor-led training, to support a client's technical and safety skills development needs. TPC products and services have been used at more than 40,000 client sites around the world, to train approximately 3,500,000 skilled workers. These product and service offerings are essential to understanding the skills required to safely and effectively operate, maintain, and manage industrial equipment. TPC training programs encompass core competencies and specific competencies for technical skills development, as well as several safety competencies to satisfy regulatory compliance and maintain a safe work environment.
###