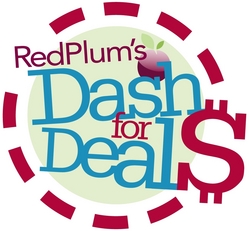 Beginning today, one exclusive deal a day will be hosted on a special www.redplum.com/dash page
Livonia, MI (Vocus) September 1, 2010
Redplum.com, one of the fastest growing online coupon and value lifestyle sites and a leading provider of deals and savings on brands consumers want most, announced today that it is celebrating National Coupon Month this September with a Dash for Deals event featuring exclusive, high-value deals throughout the month. The month will showcase a diverse offering of savings from a variety of retailers, consumer packaged goods manufacturers and service providers including:
Angie's List; A&W; Build-a-Bear; Catherine's; ClickNKids.com; DIRECTV; Dropps; E.P.T.; Four Paws; Hoover; Hungry Jack Mashed Potatoes; Johnson & Johnson Soothing Vapor Wash; Kmart; L'Oreal EverPure; Magazines.com; Meijer; PersonalizationMall.com; PetCareRx; Restaurant.com; Rite Aid; Smucker's Fruit Spreads and Smucker's Jif Omega-3 Peanut Butter; Snap Fitness; SpaWish.com; Total Gym; Tic Tac; U.S. Vision; and Zprbag.com.
Beginning today, one exclusive deal a day will be hosted on a special http://www.redplum.com/dash page featuring printable coupons, coupon codes, samples or outright freebies! Deep discounts will be offered on everything from food to beauty products, pet care to clothes. Sign up now on redplum.com to receive our newsletters, and join us on Facebook (Facebook.com/redplumsaves) and Twitter (@redplumeditor) to be the first to know of the special deal of the day. Quantities per day are limited, so visitors must act fast.
Readers will also see a new blog on redplum.com called The Dish from RedPlum that will feature each day's deal as well as updates on the month-long promotion. The Dish from RedPlum will also provide readers with daily coupon updates and timely information about how to save money and live the value lifestyle. Be sure to check out the site each and every day in September for exciting new deals.
In addition, a special Diva Toolbox Radio: Viva la Value, featuring Lisa Reynolds, RedPlum's Mom Saver-in-chief, will air Thursday, Sept. 9 at 3 p.m. ET on http://www.blogtalkradio.com/lisa-reynolds celebrating National Coupon Month and focusing on ways to live the value lifestyle. During this month's show, Lisa Reynolds, RedPlum's Mom Saver-in-chief, will be joined by Gillian Aldrich, Features Editor for All You magazine, who will discuss reader advice and trends on saving money. Reynolds will also be joined by Kate Arcieri, a lifestyle expert, and Editorial Director at redplum.com. For more information, please visit http://www.redplum.com/vivalavalue or http://www.blogtalkradio.com/lisa-reynolds.
Editor's Note: September is National Coupon Month. This September marks the 13th year that the Promotion Marketing Association has celebrated National Coupon Month. For more information on coupon month, go to: http://www.nationalcouponmonth.org.
About RedPlum
RedPlum brings consumers relevant offers and good deals on the brands they want most to best stretch their budgets. We deliver deals on a weekly basis to over 100 million shoppers in the mailbox, in the newspaper, in-store and online. At redplum.com, you will find one of the largest collections of printable coupons, coupon codes and savings tips along with the best deals and the sweetest coupons plus trends, tips and inside information on what to wear, buy and do right now. RedPlum is the consumer brand of Valassis, a Michigan-based company that has been delivering savings and value for 40 years. Building upon our wish to help American families, we empower the public to take part in the effort to help safely recover missing children through our America's Looking For Its Missing Children® program, which appears on our RedPlum products. For more information, visit http://www.redplum.com. To learn about advertising opportunities with RedPlum, please call 1-800-437-0479.
Media Contact:
Mary Broaddus
Director, Investor Relations and Corporate Communications
734-591-7375
broaddusm(at)valassis(dot)com
###