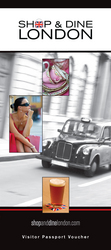 "Regent Street is pleased to be a partner in Shop & Dine London," says Annie Walker, Director, Regent Street Association. "It enables us to promote our unique shopping and dining offers to travelers visiting London from around the world."
Phoenix, AZ (PRWEB) September 2, 2010
Anderson Retail Tourism Marketing recently announced the launch of Shop & Dine London, a unique cooperative tourism marketing program that promotes select shopping centers, retailers and restaurants located in and around London to visitors planning travel to the city. The Shop & Dine London program utilizes a variety of travel resources to promote participating retailers and restaurants, including an incentive program that offers travelers a "Visitor Passport Card" which is presented at the establishments to receive special offers, complimentary menu items, gifts with purchase, or services such as shipping, package delivery, beauty makeovers, etc.
Currently, the program provides visitors with over 200 special offers, amenities and services from retailers located along Regent Street, at Burlington Arcade, Bicester Village as well as Harrods and Fortnum & Mason. Restaurants located along Regent Street, in Harrods, Fortnum & Mason, as well as the esteemed Criterion Restaurant were part of the launch. "Regent Street is pleased to be a partner in Shop & Dine London," says Annie Walker, Director, Regent Street Association. "It enables us to promote our unique shopping and dining offers to travelers visiting London from around the world."
The Shop & Dine London marketing team works with tour operators and travel agents in Europe, Asia, the Middle East and North America, along with select ground handlers, meeting planners and concierges in London. These travel professionals provide their clients with a special printed voucher which is then presented at designated redemption locations throughout London including Harrods, Burlington Arcade and Regent Street. In addition, travelers can also print a voucher from the Shop & Dine London website or download it to their mobile smart phone.
Upon presenting one of these voucher forms, the visitor receives a printed travel guide outlining each shopping and dining location and offers along with a Visitor Passport Card. The Card is then presented upon arrival at the retailer or restaurant for special offers and services. Cards can be retained and used on future trips to London. New offers, special events and promotions are continually updated and featured on the Shop & Dine London website, where travelers can also find discounted "Show & Dine London" theatre tickets and dinner packages as well.
In addition to Shop & Dine London, Anderson Retail Tourism Marketing also represents London Luxury, offering a program of bespoke personalized shopping tours and unique shop and stay packages with London's most discerning hotels, retailers and restaurants located in London's New West End. A dedicated Luxury London privilege card and website in Arabic and English highlighst an exclusive mix of privileges and luxury offers that money can't buy from tea at Asprey in a private room to viewing Grace Kelly's diary to Sir Wintston Churchill's suit block. "We're expecting upwards of 45 million international visitors to come to London's West End in the lead up to the 2012 Olympics, which is worth an estimated £2.2 billion to the local retail and leisure economy," commented Jace Tyrrell, Communication Director, New West End Company. "Luxury London is a catalyst to capitalize on our key growth markets of high net worth visitors seeking a bespoke program of privileges and shop and stay packages.
Shop & Dine London is a member of Visit London, UK Inbound, the International Culinary Tourism Association and the International Council of Shopping Centers. Anderson Retail Tourism Marketing manages tourism programs in the United States for America's Premier Shopping Places, a collection of shopping and dining destinations owned and managed by General Growth Properties, the second largest retail developer and management company in America. ARTM also represents Westfield San Francisco Centre in California for domestic and international tourism development. For further information on Anderson Retail Tourism Marketing, contact Kathy Anderson, Kathy(at)retailtourism(dot)com or visit http://www.RetailTourism.com.
###