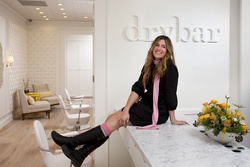 "We were literally blown away by the reception from our clients in Brentwood," said co-owner Alli Webb,
Los Angeles, CA (PRWEB) September 1, 2010
Drybar, the innovative new blow-dry-only concept in the multi-billion dollar beauty industry, most recently hailed by Entrepreneur Magazine as one of the 100 best new ideas of 2010, is expanding throughout Southern California. Drybar is a refreshingly simple concept: "No cuts. No color. Just blowouts. Only $35." Drybar has shown this recession who's boss by providing an astonishing 14,000+ blowouts since opening less than six months ago all for just $35 each. And, they continue to do their thing in a super-stylish shop in Brentwood staffed by some of best stylists in the west. Among the happy guests are models, celebrities, moguls and moms – including Cindy Crawford, Sela Ward, Cheryl Hines, Amanda Bynes, Cheryl Tiegs, Rosanna Arquette, Poppy Montgomery, Josie Maran, Paige Tolmach, Alicia Witt, Leslie Mann, Mary Steenburgen, Maria Shriver and Rose McGowan - who, in addition to being a regular client, has also invested in Drybar and is a partner in the upcoming West Hollywood location.
"We were literally blown away by the reception from our clients in Brentwood," said co-owner Alli Webb, clearly intending the pun. "We had a crazy theory… Create a beautiful, fun environment where women could come to get an incredible wash and blowout, at a ridiculously fair price, and they'd keep coming back. Based on the overwhelming response, our theory was right. We can't wait to make new Drybar fanatics everywhere when we open our new shops."
Expansion Plans Unfold
In the still of night, when the blow dryers are silent and the floors are being cleaned… the Drybar team continues to hunker over plans and specifications for their new stores, which promise to be at least as cool as the original Brentwood location. And that's a high bar. Heck, the team's architect (Josh Heitler) has a Harvard degree hanging on his wall (yes, with his name on it). As you're reading this, he's probably drawing one of their stores right now. A village of bearded Bavarian craftsmen, with a keen sense of both precision and sarcasm, are assembling scores of yellow hair-dryers for the new shops as we speak.
Each of the five neighborhoods below is scheduled for a fresh dose of hipness (and unsightly incidents of split-ends, the frizzies and mop-top are about to decline):
· Studio City, Ventura Blvd, Sept 16, 2010
· Newport Beach, Fashion Island, early 2011
· West Hollywood, Sunset Plaza, Oct 2010
· Calabasas, Calabasas Commons, early 2011
· Pacific Palisades, Town Center, Nov 2010
New Drybars will range in size from approximately 1,000 square feet to 1,700 square feet with a range of 6-12 chairs. The interior of every store will have the same signature Drybar branding, decor and design details. Each will be designed by the same skilled hand… but don't worry, he has one of those squeezy hand-gripper gadgets to get in shape. The team will continue to create the living room feeling, with a perfect balance of sophistication and comfort. And women keep coming back for more than just expert blow-outs. They love to gather with friends, sip a complimentary cocktail, and watch girly movies on flat screen televisions. The most popular styles are Straight Up (Drybar's signature), the Manhattan (sleek and smooth), Southern Comfort (big hair with volume), a Cosmopolitan (lots of soft, loose curls), and the Mai Tai (messy beach hair). Or, Drybar clients can be mixologists, ordering their own favorite style (anything except the "Amy Winehouse"… which would require more complex technology). The stress-busting "Floaters" (10 minute ultra-luxurious hair massage) can be added to any service.
Each location will be open 7 days a week. Appointments for all locations can be made online at http://www.thedrybar.com or by calling 310-442-6084. Franchising Program Unveiled But, even Drybar can only do so much without a little help from their friends. And that's where the franchising program comes in. Drybar will begin awarding franchises to partners who meet strict brand criteria.
The Drybar team formed Drybar Franchising LLC and filed federal franchise disclosure documents (FDD) to begin offering franchises. "We haven't even started marketing the franchise program yet," said CEO Michael Landau, "yet inquiries are already pouring in from all over the world." The initial focus on franchising will be in the United States for 2011, specifically in San Francisco, Orange County, Arizona and Texas.
Drybar Products on the Horizon
An expert team of mixologists is also donning the white lab coats (with yellow trim) working on new and exclusive formulas to be poured into a Drybar branded line of hair-care products that are specially formulated and designed to enhance blowouts. The products will be hitting the back bar at Drybar and retail shelves in 2011. One thing's for certain, their blowing is definitely growing.
High res images available at: thedrybar.com/media
Press Inquiries: bluPRint Public Relations · Jill Eisenstadt-Chayet · [email protected] · (310) 208·1300
###