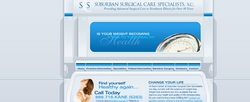 Schaumburg, IL (Vocus) September 1, 2010
The Suburban Surgical Care Specialists are a group of weight loss surgeons in Chicago offering several bariatric surgery options to the Northwestern suburbs and surrounding communities. The doctors say they want people to realize that while fad diets are tempting because they promise quick and easy results, they are named as such because different strategies come and go, but seldom lead to any real progress in the fight against morbid obesity. On the contrary, doctors at the practice say fad diets often leave people frustrated and confused as their weight fluctuates, leading to a progressive weight gain and continued health problems in the end.
According to the doctors at Suburban Surgical Care, the easiest definition of a diet is taking in fewer calories than a patient burns throughout the day. However, for patients suffering from morbid obesity, diets are often unsuccessful, in which case, they may be candidates for bariatric surgery in Chicago. Doctors at the practice say, typically, people decide to pursue fad diets because they are concerned for their health, but fad diets often exclude certain necessary nutrients, which places potentially at-risk people at an even higher risk for illness.
While the weight loss promises made by fad diets can often fail to provide real results, the doctors at Suburban Surgical Care say bariatric proceduressuch as the LAP-BAND® System in Chicago, have a clinically-proven track record. They say that LAP-BAND® System surgery is the simplest and least-invasive surgical weight loss procedure approved by the U.S. Food and Drug Administration. The doctors at Suburban Surgical Care say the LAP-BAND® Adjustable Gastric Banding procedure leads to gradual weight loss over a period of several months to several years, which is typically a key indicator as to the likely success of the weight loss process. They say, in contrast, patients usually experience limited weight loss while following a fad diet, but see the weight return as normal eating habits are resumed.
Whether considering a bariatric weight loss procedure like LAP-BAND® System surgery or gastric bypass in Chicago, the doctors at Suburban Surgical Care warn patients against the potentially harmful pitfalls of fad diets. Instead, they encourage anyone considering the various weight loss options available to seek a professional consultation when determining the appropriate path for their individual weight loss needs.
About Suburban Surgical Care Specialists
At Suburban Surgical Care Specialists, the bariatric surgeons and other surgical care experts have been recognized by the American Society for Metabolic & Bariatric Surgery as a Bariatric Surgery Center of Excellence, and by Blue Cross Blue Shield of Illinois as a Designated Center for Bariatric Surgery. According to the practice, doctors at Suburban Surgical Care have handled more than 8,000 surgical cases during the past 35 years, while remaining up-to-date on all the latest technological advancements in their related fields.
The Suburban Surgical Care Specialists have several office locations in the Northwestern suburbs of Illinois. Their office at Prairie Pointe Medical, 4885 Hoffman Blvd. #400 in Hoffman Estates, IL 60192, and can be reached at (847) 255-9697; the Arlington Lakes Professional Center location can be found at 1614 Central Road Ste. 211 in Arlington Heights, IL 60067, and can be reached at (847) 255-9697; and the third location is at the Wimmer Medical Plaza, 810 Biesterfield Road Ste. 101 in Elk Grove Village, IL 60067, and can be reached at (847) 290-9200. All locations can be reached at (866) 716-5263 or http://www.suburbansurgicalcare.com/.
###