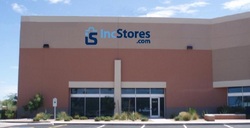 It is an exciting time for IncStores.com. The new facility will allow our team to continue to provide quality customer service and promote faster lead times
Chandler, AZ (Vocus) September 1, 2010
IncStores.com is pleased to announce the acquisition of a new office building. As an industry leader of quality rubber and garage flooring products, significant growth has created the need to expand and relocate. The relocation project, set for the end of October, is an important cornerstone for IncStores.com.
"It is an exciting time for IncStores.com. The new facility will allow our team to continue to provide quality customer service and promote faster lead times," states CMO Anthony Schmidt. "It will allow us to focus on the future. Garage Flooring, Inc. will become an important part of IncStores.com and will provide additional solutions to our clients in the garage flooring market."
The new facility boasts over 100,000 square feet of working space. It offers a large area for desks and individual offices for management. IncStores.com is preparing for the positive change by creating ideas on how to use the newfound leg-room.
"The success of our company is a combination of our well trained customer service staff, guaranteed low prices, top quality products, and easy to use websites," Anthony adds. "We are starting to 'burst at the seams' in our current space due to recent growth and newly created jobs. To continue our growing efforts, a larger space has become a necessity." Management has big plans for the growing business.
The team agrees and exude high spirits around the workplace. "I am excited to move into our new building. It will allow us to expand our product line and continue our amazing growth," explains Bill Harris, Sales and Service Representative. The feeling is mutual among other staff members. The move will benefit the abilities of the sales and customer service team.
The new IncStores.com headquarters will be located on 120 Corporate Place Suite 20, Chandler, AZ 85225. IncStores.com wishes to share in the excitement of expanding with their past, present, and future customers. They will continue to focus on providing the best selection of rubber floor covering, garage flooring and exercise mat products online to its valued customers while keeping an eye towards expanding into other markets in the future.
About IncStores.com:
Owners of Rubber Flooring, Inc. and Garage Flooring, Inc.
Headquarters will be in Chandler, AZ as of 11/1/2010. IncStores.com owns the online destination for residential and commercial specialty flooring options including RubberFlooringInc.com and GarageFlooringInc.com. IncStores.com web shops offer competitive pricing, a top notch and knowledgeable sales and service team, and the widest selection available. For more information, please visit http://www.incstores.com .
###