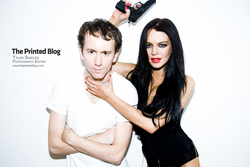 "Not everything is always better online, by default. Print has always been, and always will be, the gold standard for publishing," says Tyler Shields, Co-Founder and Photography Editor at The Printed Blog
Los Angeles, CA (PRWEB) September 15, 2010
"Sometimes, it's just nice to sit down on the couch, on the train, or at a café, and read a printed paper. Not everything is always better online, by default," says Tyler Shields (http://www.tylershields.com), photographer to Lindsay Lohan and the stars, and the new Co-Founder and Photography Editor at The Printed Blog. Tyler continues, "Print has always been, and always will be, the gold standard for publishing."
The Printed Blog (http://www.theprintedblog.com) is the world's first print magazine comprised entirely of blogs and other online content.
The Printed Blog takes the best of the Web, from hard news to popular culture, curated by editors you already know and love, and delivers it each week in a beautiful, PRINTED magazine format.
Tyler adds, "As more and more newspapers and magazines pursue the belief that the Web will save them — ironically, high-quality, well-edited and well-presented print is going to become more important than ever."
The Printed Blog believes that the Web is about cutting and pasting, searching and clicking, interacting, transacting and posting information. Print is about consuming, preserving and honoring information.
"Now that it's possible for anyone to instantaneously publish anything online, identifying the very best content – so good it deserves to be printed – is time-consuming, difficult and unreliable at best. Articles that are "voted" to the top by the masses only hurt our ability to know what is truly important," continues Tyler.
The Printed Blog believes that content posted online has value, and it is time for that value to be recognized by those who benefit from it. This is why The Printed Blog charges a subscription, and also why a meaningful percentage of that revenue is paid directly to all of its contributors.
Joshua Karp, Founder and Publisher of The Printed Blog, says, "We're thrilled to welcome Tyler to The Printed Blog team. He is a remarkable photographer and editor. Aligning amazing user generated photography with the best blog content has been a hallmark of The Printed Blog since we published our first issue last year. Not only will we see a bunch of Tyler's original work, but he'll be working with photographers around the world to locate and publish the very best."
The Printed Blog is the platform for the new print journalism.
To be considered for publication, photographers should submit their work to photos(at)theprintedblog(dot)com and bloggers should submit their blog to bloggers(at)theprintedblog(dot)com.
About Tyler Shields
As an artist, Tyler Shields knows no limits. While he has photographed some of the biggest celebrities in the world, Tyler's work is far from exclusive to the celebrity realm. Innovative and inspired, Tyler is an artist who specializes in organized chaos. Having garnered enormous respect among the artistic community and Hollywood alike, Tyler is in the unique position as an artist in which the world is his playground. After getting his start by directing music videos, Tyler shifted his focus to risky and cutting edge photography.
His work features some of pop culture's most recognizable faces performing unspeakable acts. Tyler has cemented his reputation and brand through his shocking work with video portraits and his edgy photography in the art and celebrity form.
He lives in Hollywood, CA where he continues to push his own extreme artistic boundaries daily and expand on his already voracious artistic conviction. He is currently working on his new book, The Dirty Side of Glamor.
To learn more about Tyler Shields, visit his site at http://www.tylershields.com.
To learn more about The Printed Blog, visit the web site at http://www.theprintedblog.com.
Contact:
Joshua Karp
Founder and Publisher
The Printed Blog
(312) 305-1000
jkarp(at)theprintedblog(dot)com
Tyler Shields
Co-Founder and Photography Editor
The Printed Blog
(312) 305-1000
tyler(at)theprintedblog(dot)com
###