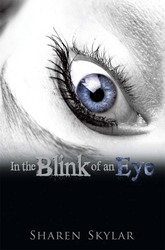 Las Vegas, NV (Vocus) September 1, 2010
The longtime friendship of three Las Vegas civil servants is challenged when they are drawn into an investigation of rape and murder at a local strip club.
Sharen Skylar's new book, In the Blink of an Eye, centers around the exotic world of topless dancing. The girls at the Velvet Lap are sultry and seductive, but they hide a secret. When a dancer is found murdered, Cooper Scott, a vice cop investigating the club, becomes the prime suspect.
While the evidence continues to mount against Scott and the clock ticks down on his fate, it's up to his two best friends, homicide detective Zac Harmon and firefighter Eric Manson, to separate reality from fantasy as they chase a killer through the hot desert streets of Las Vegas.
Adults of both sexes will enjoy this suspenseful tale filled with characters that come alive with the turning of each page. With the first book in a series, Skylar snags her readers' attention and captivates them with the numerous detours throughout her intricately weaved story.
Further details and ordering information can be found at: http://www.sharenskylar.com.
AuthorHouse is the premier book publisher for emerging, self-published authors. For more information, please visit http://www.authorhouse.com.
###