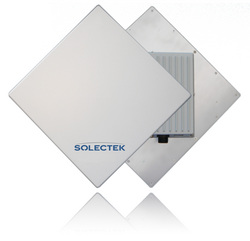 "The new Excel 50 fills the gap between entry-level and flagship products. The product provides long-haul, high capacity performance at a very competitive price," Dan Spark, VP of Sales, Solectek
San Diego, CA (PRWEB) September 1, 2010
Solectek today announces a new entrant to its SkyWay Excel backhaul product line. The Excel 50 Series brings an unprecedented combination of value and performance to the 5.8 GHz unlicensed and 4.9 GHz public safety markets.
The point-to-point Excel 50 delivers a reliable 50 Mbps of usable capacity at 10 miles, and a maximum link distance of 30 miles. An optimized RF system and carrier-grade media access control (MAC) layer ensure that high efficiency and performance are maintained at all operating distances.
"The new Excel 50 fills the gap between entry-level and flagship products. The product has throughput capability beyond the SkyWay 7000 series PTP solutions yet provides this long-haul, high capacity performance at a very competitive price," says Dan Sparks, VP of Sales at Solectek.
Sharing many of the best-in-class features of the higher end, Excel 100 platform, the Excel 50 Series offers a rich feature set including the HyperARQTM retry system, automodulation, AES encryption and a line-speed QoS system.
The Excel 50 Series is available for use in the 5.8 GHz unlicensed or 4.9 GHz public safety band and models feature an integrated panel antenna or N-type connectorized chassis. The product is available immediately for volume shipments.
About Solectek Corporation
Founded in 1989, Solectek has long been a leader in the broadband wireless networking industry. Headquartered in San Diego with offices/partners worldwide, Solectek has installations in over 100 countries. Solectek manufactures a full line of broadband wireless connectivity products including last-mile access, video surveillance transport and high capacity backhaul up to 1 Gbps spanning frequencies from 400 MHz to 70 GHz. For more information, visit http://www.solectek.com.
Contact:
Dan Sparks
949-922-2580
sales(at)solectek(dot)com
# # #