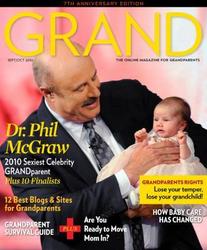 I didn't realize how deep a love you can have for a grandchild. I'm not saying it's a deeper love than (for) my own children, but I'm saying it is the most beautiful love. I love her so much.
(PRWEB) September 7, 2010
GRAND Magazine, the online magazine for today's active grandparents, proudly announces Dr. Phil McGraw as the 2010 Sexiest Celebrity Grandparent. Known by many simply as 'Dr. Phil' he was selected by readers and editors, and the announcement is made on the cover of the September/October issue available today online for subscribers at http://www.GRANDmagazine.com.
Inherited from previous winners Naomi Judd, Harrison Ford and Tony Danza, Dr. Phil McGraw surpassed the top ten finalists who were:
1. Tina Turner
2. Cheryl Ladd
3. Harrison Ford
4. Jim Carrey
5. Paula Deen
6. Joan Rivers
7. Donny Osmond
8. Lionel Richie
9. Bruce Jenner
10. Goldie Hawn
Dr. Phil McGraw graces the cover of the September/October issue – the 7th anniversary issue – which includes the Grandparent Survival Guide, a must-have for grandparents before they babysit their new grandchild.
Dr. Phil reflected on his grandparent role by saying: "This is such a life-changing event... No single emotion can describe what Robin and I are going through. With the arrival of a new generation in the family, we suddenly realize where we are in the continuum of life. We are definitely going to spend the next chapter of our lives being the best grandparents we can. We absolutely cannot wait to provide unconditional love, kindness, patience, humor, comfort, lessons in life — as well as cookies, and extra spending money, and on and on. We have promised ourselves that we will be the kind of grandparents who are always short on criticism, long on love and respectful of her parents' guidelines in shaping their daughter. Robin and I … gladly accept the challenge to make her the most spoiled granddaughter on the globe!"
Wife Robin McGraw has stated: "I didn't realize how deep a love you can have for a grandchild. I'm not saying it's a deeper love than (for) my own children, but I'm saying it is the most beautiful love. I love her so much."
Dr. Phil McGraw, best known as 'Dr. Phil' is a psychologist, best-selling author and host of the Dr. Phil television program, which debuted in 2002. He first gained celebrity status with appearances on The Oprah Winfrey Show in the late 1990s. The format of his syndicated daily television show is an advice program, where he tackles a different topic each episode, offering advice for his guests' troubles. In 2003, McGraw announced the formation of the Dr. Phil Foundation, which raises funds to fight childhood obesity. The Foundation also supports charitable organizations that help address the emotional, spiritual and monetary needs of many children and families. McGraw is also a private pilot, with an instrument rating, flying single engine airplanes. He learned he would be a grandfather while vacationing in Italy, and became a grandfather on March 18, 2010 when granddaughter Avery Elizabeth McGraw was born to his
son Jay McGraw and daughter-in-law Erica Dahm-McGraw.
"There are 70 million grandparents in the U.S., with 5,000 baby boomers becoming grandparents every day," said Christine Crosby, founder and publisher, GRAND magazine. "Readers admire yet also identify with Dr. Phil as representing the modern grandparent: active in the lives of their grandchildren and loving it – and yes, of course, being sexy too."
The article and issue is accessible to subscribers of GRAND magazine, which is available at http://www.GRANDmagazine.com. To view the current issue of GRAND click here.
In honor of National Grandparents Day on September 12, a free subscription to GRAND (a value of $19.95) is being offered to all first-time grandparents. For the free subscription offer visit http://bit.ly/GRANDMAG.
GRAND magazine
GRAND magazine is an online monthly magazine that serves the more than 70 million U.S. grandparent market. It is delivered exclusively in digital format. It is published by GRAND Media, LLC, which was established in 2004. For more information about GRAND magazine visit: http://www.GRANDmagazine.com.
This press release was distributed through PR Web by Human Resources Marketer (SeniorCare Marketer: http://www.seniorcaremarketer.com) on behalf of the company listed above.
###