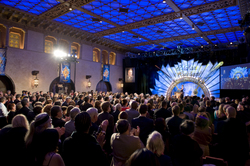 Hollywood, CA (PRWEB) September 1, 2010
Twenty-four writers and artists from around the globe were honored Saturday night at the 26th Annual L. Ron Hubbard Achievement Awards at the famed Hollywood Roosevelt Hotel, in the very room the first Academy Awards was held.
The annual event celebrated the winners in the L. Ron Hubbard Writers and Illustrators of the Future Contests before a packed hall—including celebrities Martin Kove (Karate Kid trilogy), Lee Purcell (NBC TV series "Persons Unknown" ), Nancy Cartwright (the voice of Bart Simpson), Marisol Nichols (ABC TV series "The Gates") and Josh Robert Thompson (voice of Craig Ferguson's robot co-host on "The Late Late Show")—and thousands more who were logged on to watch the event as it streamed live. The night's keynote speaker was June Scobee Rodgers, Founding Chairman of the Challenger Center for Space Education.
Each writing and illustrating contest winner was presented their trophy by contest judges at the ceremony and combined cash prizes and royalties of over $30,000. The Gold Award to the author of the Story of the Year was presented by Martin Kove and K.D. Wentworth, Editor for Writers of the Future, to Laurie Tom of Torrance, California, for her story "Living Rooms." The Gold Award for the Illustrator of the Year was presented to Seth J. Rowanwood, of Toronto, Ontario, Canada, by Dr. June Scobee Rodgers and Ron Lindahn, a multiple award winning artist and Illustrator of the Future Contest coordinating judge.
Prior to the awards ceremony, the winners were flown in from as far away as Australia, Ukraine, Ireland and Canada, to attend a week long workshop taught by contest judges —including New York Times bestselling author Kevin J. Anderson (Dune series), World Fantasy Award winner Tim Powers ("On Stranger Tides" to be adapted as the 4th Pirates of the Caribbean film) and internationally acclaimed artist, Stephen Hickman—each one an experienced professional in the field providing sound advice based on hard-won experience.
The intensive mentoring process has proven very successful. Past winners of the Writing and Illustrating Contests have published over 700 novels, 3,000 short stories and more than 3 million illustrations in the field. The Contests were initiated by L. Ron Hubbard in 1983 shortly after returning to the field of science fiction with his bestseller Battlefield Earth.
For more information and to see the awards ceremony online, go to http://www.writersofthefuture.com
###