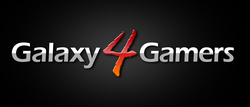 Our ever-growing communities of avid gamers provide Galaxy4Gamers with unique suggestions and ideas on how to improve our offerings. We listen to our fans very carefully and at this time have decided to expand our one-of-a-kind Beat-A-Pro platform, so now our most hardcore gamers can earn even more money by leveraging their fan-base or social network to create their own Beat-A-Pro challenges
Los Angeles, CA (PRWEB) September 1, 2010
Galaxy4Gamers (G4G), the leading video game tournament website, announced today an expanded Beat-A-Pro platform offering any top gamer the exclusive opportunity to become a professional video game player, host challenges and reap the financial benefits. The expanded Beat-A-Pro platform allows its members to design and implement fully customizable video game tournament schedules with self-determined buy-in and payout values, live chat, HD streaming, recorded matches, and personal branding.
"Our ever-growing communities of avid gamers provide Galaxy4Gamers with unique suggestions and ideas on how to improve our offerings. We listen to our fans very carefully and at this time have decided to expand our one-of-a-kind Beat-A-Pro platform, so now our most hardcore gamers can earn even more money by leveraging their fan-base or social network to create their own Beat-A-Pro challenges," said CEO of Galaxy4Gamers, Chris Doe.
The original Beat-A-Pro platform was the first ever skill-based virtual arcade for console video games that provided fans with a stage to test their talent and ability against some of the most famous professional video game players in the world including Justin Wong, Robert Paz, and Alex Valle. The expanded Beat-A-Pro platform grants fans a safe and secure virtual venue in which they can prove their Pro Gamer status to any challenger that thinks otherwise. The Pro will create their own schedule, set regulated rules, and establish their own buy-in and payout limits. The expanded Beat-A-Pro platform supports live chat, streaming HD video, and the ability to invite friends/foes to join. By offering the expanded Beat-A-Pro alongside the original platform, Galaxy4Gamers continues to set industry standards by which the competition can only try to emulate.
For additional information, please visit http://www.Galaxy4Gamers.com/beat-a-pro
About Galaxy4Gamers:
Galaxy4Gamers (G4G) is a competitive gaming community that specializes in online tournaments. Video game fans can spectate or compete in tournaments for real money on dozens of leading titles for Xbox 360 & PlayStation 3. G4G was built by gamers for gamers, with the goal of promoting video gaming as a professional sport. In addition to the expanded Beat-A-Pro platform, Galaxy4Gamers offers other industry leading services including an automated result verification system, a secure banking portal, an advanced custom player rating system, team gaming, free roll tournaments, 24-hour live customer support service, prompt withdrawal services, immediate gaming dispute resolution, social networking, live game play streaming and video play back and the lowest fees in the industry.
###