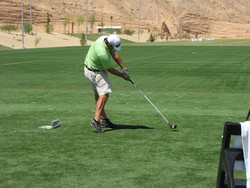 Nothing Hits With Krank!
Tempe, AZ (PRWEB) September 2, 2010
Brooks Baldwin, the newest Krank Golf Team One Member chose to join Team Krank and switch to the Rage Driver that morning and it paid big dividends. The event was the Region 7 District Championships which included 82 world class Long Drivers hitting for 8 spots to the coveted Remax World Long Drive Championships later this year.
"In the 10 years I have competed in Sport of Long Drive and owned Krank Golf, this was the most competitive District Championship on record. Conditions were extremely hot at 108 degrees with wind increasing through out the day. The Rage Driver not only set the record for the longest balls ever hit on that grid, but finished 1st, 2nd, 4th and 6th. The Rage Driver recorded 9 out of the 10 longest balls hit that day, making a statement of the extreme ball speed and low spin characteristics of our amazing driver." Says Lance Reader, President of Krank Golf
Krank Golf, the most dominant driver and the most used driver in the Sport of Long Drive worldwide, continues its impressive showing week in and week out. With all the talk about which driver is truly the longest hitting golf driver in the world, The Krank Golf Rage Driver stands alone.
Visit http://www.krankgolf.com and experience what the longest hitters in the world already know. USGA approved, Krank Golf Drivers are simply the longest and straightest hitting golf drivers on the planet. The facts speak for themselves. Maybe its time to put one in your bag?
Krank Golf
Phone: (480) 699-5041
Email: krankit(at)krankgolf(dot)com
Website: http://www.krankgolf.com
###