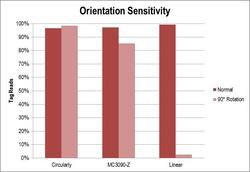 Ashburn, VA (PRWEB) September 1, 2010
ODIN Labs, the scientific testing division of ODIN, the world leader in RFID software and solutions, has spent the past three months testing six different RFID handheld readers and will publish the RFID Handheld Reader Benchmark™ on September 8th. The Benchmark is designed to help end users differentiate between the many handheld models available today and provide scientific input into the procurement process.
Pre-orders of the Benchmark are offered today through Tuesday, September 7, 2010 at a 20% discount off the $750 retail price. You can place your order by going to RFID Handheld Reader Benchmark and registering for the discount code.
The eight hand-held RFID readers include:

Motorola MC3090-Z (FCC)
Motorola MC3190-Z (ETSI)
Intermec IP30 (FCC)
Intermec IP30 (ETSI)
CSL CS101
Unitech RHS767
MacSema PCE 4050
Symbol MC9000 (FCC model also included in 2005 Benchmark)
Each of the RFID readers was subjected to a rigorous scientific test protocol and a battery of head-to-head competitions. The benchmark covers several areas of evaluation and includes a discussion on the impact of antenna technology on performance. One of the key tests is Orientation Sensitivity.
Orientation Sensitivity evaluates an RFID handheld antenna's ability to pick up a tag regardless of orientation. This is particularly important with a hand-held since it is seldom held in the same plane. A user will pick up a handheld reader and wave it in a general direction which will vary each time. On a tag grid, a circularly polarized antenna picks up close to 100% of the tags when the tag field is orientated horizontally and also when rotated 90°. This is in contrast to a linearly polarized antenna which only has a high read rate for a specific orientation.
Motorola's much-hyped new RFID handheld reader, the MC3090-Z, looks very slick and it has an interesting new antenna design based on RFID MAX Antenna technology. This technology employs a combination of a linear and circularly polarized antenna, taking advantage of the orientation insensitivity of a circularly polarized antenna and read distance capability of a linearly polarized antenna. The chart above outlines results for the MC3090-Z side by side with a handheld with a circularly polarized antenna and one with a linearly polarized antenna. The RFID Handheld Reader Benchmark™ is ODIN's next installment in its RFID Benchmark Series™.
Companies or individuals that order the Benchmark before the September 8th release date receive a 20% discount off the $750 price. Ordering now allows companies to purchase an unlimited license for internal distribution for only $600.
Go here to register for your discount: bit.ly/9osddX.
Key Questions answered by the RFID Handheld Reader Benchmark™ include:

Are linear or circularly polarized antennas better in handhelds?
Does Motorola's new antenna technology live up to the hype?
Do the cheaper Asian handhelds compare favorably to the U.S. manufacturer models?
About ODIN
ODIN is the leader in RFID solutions for healthcare, aerospace, financial services, and government agencies. Global corporations on five continents leverage ODIN's expert engineers and patented RFID software to achieve accuracy, speed, and visibility for their RFID deployments. ODIN's EasyEdge™ software reduces implementation and support cost and has been successfully used at dozens of companies across more than 150 sites worldwide to ensure accurate and scalable RFID implementations. In addition to packaged solutions, implementations, and engineering, ODIN publishes the RFID Benchmark Series™, the industry's first and most referenced head-to-head performance analysis of RFID equipment. ODIN serves clients from offices in Ashburn, Virginia, Dublin, Ireland and Budapest, Hungary. http://www.ODINtechnologies.com.
# # #