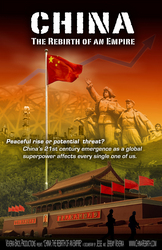 We are very excited that the film's world premiere will be in central Florida, a place that has been a second home for me
Orlando, FL (PRWEB) September 1, 2010
Peaceful rise or potential threat? When it comes to China, that's the question on everyone's mind. The country has surpassed Japan as the world's second largest economy and its unprecedented growth has raised the possibility of it overtaking the United States within the next 15-20 years. But what type of superpower will China become? In today's interconnected and globalized world, the answer affects each and every one of us.
"China: The Rebirth of an Empire", a new documentary directed by brother-team Jesse and Jeremy Veverka tackles this issue head-on. The eagerly anticipated film holds its world premiere on September 4 at 4:45 pm at the 2010 Central Florida Film Festival to be held at the West Orange 5 Theaters in Ocoee, Florida. Tickets can be purchased in advance on the festival website, http://www.centralfloridafilmfestival.com.
"We are very excited that the film's world premiere will be in central Florida, a place that has been a second home for me," says co-producer/director Jeremy Veverka, who received an associate's degree at Valencia Community College in Orlando.
The film's premiere in central Florida kick's off a festival circuit that also includes showings at Docutah - Southern Utah International Documentary Film Festival in St. George, Utah, September 16-25, 2010, the Naperville Independent Film Festival in Naperville, Illinois, September 18-25, 2010, the Clearwater Film Festival, Clearwater, Florida, September 29-October 3, 2010, the Chagrin Documentary Film Festival, Chagrin Falls, Ohio, October 12-16, 2010, and the Astoria/LIC International Film Festival, Queens, New York, October 22-24, 2010 with more festivals to be announced.
"China: The Rebirth of an Empire" weaves together such diverse issues as free trade, Islamic fundamentalism, North Korea's nuclear program and the Pro-Tibet movement under the umbrella of the national aspirations of an increasingly wealthy China. The documentary is the first of its kind to reconcile American economic decline with China's blistering growth, changing political climate and treatment of ethnic and religious minorities such as the Uyghurs and the Falun Gong. The film showcases interviews with East Asia expert Chalmers Johnson, author of the "Blowback" trilogy and the recently released "Dismantling the Empire". It also features pro-democracy dissident Wei Jingsheng, exiled Uyghur spokeswoman Rebiya Kadeer, former Afghan Prime Minister Ahmad Shah Ahmadzai, and Freddie Lim, pro-democracy activist and lead singer of the Taiwanese heavy metal band ChthoniC.
http://www.facebook.com/ChinaRebirth
###