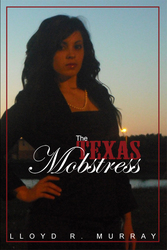 Angleton, TX (Vocus) September 2, 2010
The Texas Mobstress, a new book by Lloyd R. Murray, has been released by RoseDog Books.
Throughout Texas history women have always played an up-front intricate role, legal and illegal, in every aspect of the state's development. From Sea Captains to Brokers of the commodities they carried, from carriage-driven housewives to horse-riding gunslingers, from ministers to mobsters (just to name a few), women have been present through history.
In 1952, Sharon LaNette Comeaux was born to a prostitute mother and raised in the ghetto to become an underworld power figure by the age of twenty-two. She started, financed from the pockets of her mother's dates, her first bootlegging and fencing stolen merchandise operation, which also led to the disposal of her first enemy and provided her with more money to expand her operation. This operation became an empire: accepted, respected, and protected by the mob of which she earned the title "The Texas Mobstress."
Lloyd R. Murray is a Texas-born Creole, (a.k.a. coon-ass of French, African, and Spanish decent). Mr. Murray was encouraged to become a writer by many past college professors and instructors he studied under during his tenure as a "professional student" for twenty-five years at college across the state of Texas. These colleges included Bishop College (in the 1970's), Blinn and Texarkana Colleges (in the 1980's) and Bee County and Trinity Valley Colleges (in the 1990's). Mr. Murray enjoys thoroughbred horse racing and Cajun cuisines.
The Texas Mobstress is a 200-page paperback with a retail price of $19.00. The ISBN is 978-1-4349-8246-9. It was published by RoseDog Books of Pittsburgh, Pennsylvania. For more information or to request a review copy, please visit our virtual pressroom at http://www.rosedog.com/pressroom or our online bookstore at http://www.rosedogbookstore.com.
###