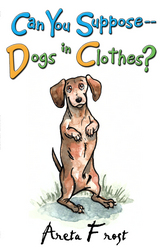 Spider is good. She weaves people together.
Schurz, NV (Vocus) September 2, 2010
Can You Suppose – Dogs in Clothes?, a new book by Areta Frost, has been released by RoseDog Books.
Frost created this story to share the joy of pets and inspire responsible ownership in children. School children have judged the story, from K through 7, and laughter echoes relative to their ages and level of understanding.
Art projects have produced paper doll clothes for dogs. Many children then drew their own dogs and clothes enlarging on the theme.
Youngsters understand feeling lost, weak, or vulnerable and share the same "need to belong" with dogs and cats.
She wrote this story as a light-hearted approach to a serious problem of animal abandonment.
Home for Frost is a "Jurassic Period" high desert bowl encircled by corrugated mountains and vibrant wraparound sky. She is a retired city girl who always worked while raising three sons, often moving them to where the jobs were. Now in Nevada, she has found her own power to create, paint, etch, write, and collect abandoned animals.
Walker River Reservation offers beauty and inspiration interlinked and boundless. A Paiute medicine man said to her, "Your totem is spider." She was aghast until he added, "Spider is good. She weaves people together."
Says Frost, "Personally, I had wanted to be "wolf"—crazy, aloof, and beautiful. I had worked for Alaska and Montana wolf protection for years and wrote the successful 2002 book The Watcher: The Wolf Who Would See Tomorrow. But when not writing or "weaving webs," I now create intaglio (etchings into hard surfaces) inspired by the rock art of the ancient ones, which I help monitor."
Can You Suppose – Dogs in Clothes? is a 32-page paperback with a retail price of $17.00. The ISBN is 978-1-4349-9661-9. It was published by RoseDog Books of Pittsburgh, Pennsylvania. For more information or to request a review copy, please visit our virtual pressroom at http://www.rosedog.com/pressroom or our online bookstore at http://www.rosedogbookstore.com.
###