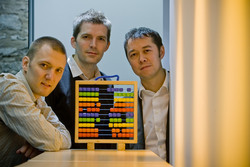 Our mission is to democratise accounting - Ed Molyneux, FreeAgent Central CEO
(PRWEB) September 2, 2010
For small business owners filing VAT online with the HMRC is now just a matter of hitting a button with today's launch today of FreeAgent Central's online VAT service. Previously business owners would take around half a day to manually calculate the VAT on goods and services purchased each quarter before taking half an hour to complete the paper form.
Now FreeAgent automatically calculates the VAT in real time and submitting the return to the HMRC takes a matter of seconds and just one click. The service has been through full user testing to ensure all bugs have been fixed before it is rolled out to customers.
Feedback from those early testers has been overwhelmingly positive as Jason Gale of Go Free Range, a FreeAgent Central customer, comments: "Now that we can file our VAT returns from within FreeAgent, the chore has almost become a pleasure! The integration is simple and very slick. Just a single click, and we're done – it couldn't be easier, we are very impressed."
This news follows the compulsory introduction of filing VAT returns online by HMRC earlier this year. FreeAgent Central will also provide extra support for next year's 20% VAT rate increases and Flat Rate Scheme rates.
Ed Molyneux, FreeAgent CEO explains: "Our mission is to democratise accounting – to put business owners in control of their finances. You cannot run a business without understanding the figures and we hope that by making the VAT return as painless a possible we are helping entrepreneurs to concentrate on growing their business not the paperwork."
FreeAgent is an online accounting and invoicing service giving small businesses a clear up to the minute picture of their finances. Subscription based, costs start at £15 per month for a sole trader, £20 for a partnership and £25 for a limited company.
About FreeAgent Central
FreeAgent Central is an independent software company pioneering online accounting for the small business and freelance market. Launched in 2007, the company is run by founders Ed Molyneux, Olly Headey and Roan Lavery.
FreeAgent is simple but powerful online accounting and invoicing software. The innovative service quickly attracted a devoted following of users and has grown rapidly since launch, currently with 2000 subscribers and this figure growing every month.
The company works in partnership with many of the UK's largest accounting practices, specialising in freelancers, to offer the service to their clients. Focused first on the UK, the company plans to launch in Europe before going Stateside within the next three years.
As freelancers themselves, the three founders of FreeAgent Central needed a finance tool that would give them a clear picture of their business accounts. That product did not exist and so FreeAgent was born.
###