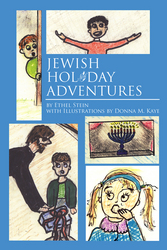 Clifton, NJ (Vocus) September 3, 2010
Jewish Holiday Adventures, a new book by Ethel Stein, has been released by RoseDog Books.
This is a book of stories about the adventures of children involved in the celebration of the Jewish holidays. The stories include humorous episodes and incidents that take place in unusual settings such as the New York subway, an Amtrak station, and a mysterious sukkah.
Each holiday is represented, and each story is illustrated. Three stories involve Hanukkah adventures. In a Passover story, the heroine has a fifth question she wants answered. Before Shevuoth the main character is anxious to join in the festivities of his sister's confirmation but may have to tend to a sick aunt. The spirit of Rosh Hashanah is celebrated in a poem, while the ceremony of Tashlich is explained after two boys are caught up in a risky escapade. The Succoth story is a mystery with humorous overtones.
This book could be supplemental material for teachers or for parents who want to emphasize cultural diversity or for young people who want to learn more about their friends from different cultures.
The author, Ethel Stein, is a former public school teacher. She taught for over twenty-five years in both the elementary and middle schools in Passaic and Clifton, New Jersey. Ms. Stein also taught Sunday school at her synagogue and has led junior congregations on special holidays.
Ms. Stein has written stories for children's magazines, articles for travel magazines, and periodicals for senior citizens.
The author is mother of three children (who often appear as characters in her stories) and grandmother of four boys. The illustrator of this book, Donna Kaye, is the author's daughter.
Jewish Holiday Adventures: with Illustrations is a 52-page hardback with a retail price of $25.00. The ISBN is 978-1-4349-9618-3. It was published by RoseDog Books of Pittsburgh, Pennsylvania. For more information or to request a review copy, please visit our virtual pressroom at http://www.rosedog.com/pressroom or our online bookstore at http://www.rosedogbookstore.com.
###