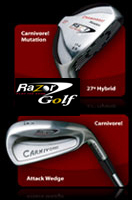 will be giving away to all its readers, their choice of ING's Award-Winning, Golf Club of the Year
Marietta, GA (PRWEB) September 3, 2010
FORE Georgia, the official NewsPublication of the GAPGA, announced today that to celebrate the beginning of their 12th Anniversary of being published by GOLFMedia, Inc., it will be giving away to all its readers, their choice of ING's Award-Winning, Golf Club of the Year –Razor Golf's 27 degree Mutation hybrid or 50 degree Attack Wedge. The value of the club is $120.00, the readers are required to pay only for shipping and handling.
John Barrett, publisher of FORE Georgia, said "I could not think of a better way to kick-off our anniversary than offering Razor's superior clubs to our friends and readers." The promotion, which runs during the month of September, will be supported by a full page ad, web banners, email blast, and to be used as tournament prizes.
Martin Vandiver, the managing partner of Razor commented that it was ironic that the two companies got together. "We are starting our 12th year in business as is FORE Georgia. When John called to propose the promotion, he had no idea that we were going into our 12th year. He only knew that we had just won the ING Award and was impressed when he played the Mutation hybrid. As they say the rest is history and we are extremely proud to be associated with Georgia's leading golf publication for this promotion."
For more information on redeeming you choice of complimentary golf clubs, go to GolfForeGeorgia.com or mail your request to FORE Georgia, 3021 Kalah Place, Marietta, GA 30067.
For more information:
Contact
John Barrett, Publisher
770.933.0442
foregeorgia(at)comcast(dot)net
About FORE Georgia:
FORE Georgia is the official NewsPublication for the Georgia PGA and is published February-November for visitors and all golfers in Georgia. It is distributed monthly to all golf courses, driving ranges, learning centers, and leading golf retailers in the state, as well as being available for download at their website GolfForeGeorgia.com.
###