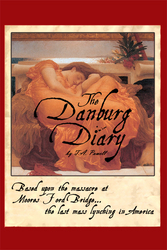 Watkinsville, GA (Vocus) September 2, 2010
The Danburg Diary, a new book by T.A. Powell, has been released by RoseDog Books.
In this tale, historical preservationist Caroline Horton is sent to the tiny town of Danburg, Georgia, to restore an architectural landmark donated to the state for rehabilitation. After the shocking news of her sterility sends her husband into the arms of another woman, she too is in need of restoration. But when booze and denial finally run out for the middle-aged divorcee, the Danburg Manor's shadowy past provides therapeutic distraction. In an attempt to flesh out both rooms and family skeletons alike, Caroline is led to the charred remains of an heirloom grandfather clock. Delighted to have at least one piece original to the home, she sends the clock away for restoration. Weeks later a package of what was found hidden inside is delivered...a leather diary.
Although the memoir itself contains no definitive ties to the Danburg, Caroline is drawn to the mysterious narrator's plight. As the content of the entries become more commiserate with its author's ages, fears of possible sexual abuse trigger repressed memories for the preservationist and she begins to obsess over every entry. But before she can reach the diary's end, she is faced with the prospect that something even worse might have happened to the phantom child. For sandwiched in between the singed pages penned in another's hand is the cryptic description of a brutal murder scene.
T. A. Powell is a successful playwright through Heuer Publishing, LLC., and is the Artistic and Managing Director of a theatre in North Georgia. An avid participant within the field of performing arts, she finds her job a natural extension of her artistic capability. Fascinated by the lure of unsolved cases, she prefers to write historical fiction pieces, finding it a more palatable format when dealing with sensitive information. Time and distance from a crime allows her characters the opportunity to separate fact from collective truth and place them both equally under the microscope of objectivity. Her process is to take the DNA of a case, what facts are known and what has been conjectured, apply the theory of Occam's razor to each, and then carefully weave a gripping tale of plausibility from the two. The goal of T. A.'s writing is not necessarily to answer all the questions surrounding these unsolved cases but to be certain they are finally heard.
The Danburg Diary is a 310-page paperback with a retail price of $26.00. The ISBN is 978-1-4349-9890-3. It was published by RoseDog Books of Pittsburgh, Pennsylvania. For more information or to request a review copy, please visit our virtual pressroom at http://www.rosedog.com/pressroom or our online bookstore at http://www.rosedogbookstore.com.
###