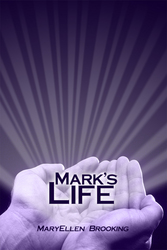 I thought about writing this, my first book, for many years
Watkinsville, GA (Vocus) September 2, 2010
Mark's Life, a new book by Mary Ellen Brooking, has been released by RoseDog Books.
This is a true story of a young boy whose dreams of becoming a Major League baseball player were shattered early in life. Mark spent five years in and out of hospitals during those young formative years.
The compassion and endurance of Mark's family exemplify courage, hope, fear, suffering, and faith.
Mark's courage and natural charismatic personality inspired and aroused compassion in so many others such as doctors, nurses, and staff. Twenty-five years later, one nurse, Freda Manion, was still so inspired by Mark that she did something extraordinary as a tribute to Mark's memory.
Mary Ellen Brooking was born March 25, 1936, the third child in a family of nine children to Bill and Frances O'Nan in the little town of Paducah, KY, where she still resides. She worked as a CMA-Ped. (Certified Medical Assistant-In Pediatrics) for Dr. James L. Shumaker in Paducah, KY, for twenty years and retired in 1996.
"I thought about writing this, my first book, for many years," says Brooking. "From time to time, I would pick up my journal and remind myself how fragile life can be and how quickly it can be taken away. More recently the urge to tell the story of Mark's life became an obsession, and this book is the end result."
Brooking has one son, Keith Brooking; one daughter, Ellen Perkins; and one granddaughter, Marianne Perkins. She has been widowed since 1992. For the past ten years, she has been with her companion, Frank Motsay, who is also widowed.
Mark's Life is a 48-page paperback with a retail price of $11.00. The ISBN is 978-1-4349-9971-9. It was published by RoseDog Books of Pittsburgh, Pennsylvania. For more information or to request a review copy, please visit our virtual pressroom at http://www.rosedog.com/pressroom or our online bookstore at http://www.rosedogbookstore.com.
###