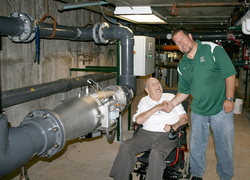 We have been very impressed with Adolph's personal response to our system. The installation process has gone well.
Zion, IL (Vocus) September 2, 2010
On August 2, 2010, Adolph Kiefer and Associates installed a medium pressure, ultraviolet pool sanitation system at New Trier High School in Winnetka, IL. Engineered as a non-chemical, environmentally friendly solution for disinfection and chloramine destruction, the new UV system is expected to provide a cleaner, safer, more comfortable pool environment for New Trier's water sport participants and spectators.
Established in 1901, New Trier High School has a longstanding reputation for academic and athletic excellence. Today, New Trier High School has one of the most active swimming pools in the United States, hosting a variety of water sports and activities including competitive swimming, diving, water polo, learn to swim programs, synchronized swimming, U.S. Masters Swimming and rehabilitation.
With both professional and personal interests in the school, Kiefer's founder Adolph Kiefer was pleased to learn that New Trier elected to implement UV technology. "New Trier is highly respected in the educational community. When New Trier makes a move people take notice. It is my hope that New Trier's decision will encourage others to learn more about the advantages of UV. Plus, all of my children attended New Trier. Naturally, I want the best for their alma mater."
As reported by Adolph Kiefer and Associates, the benefits of a UV system are numerous. To top the list, UV eradicates harmful bacteria such as Cryptosporidium and Giardia that can result in widespread illness and pool closures. In addition, UV reduces chlorine by-products such as chloramine, which often causes eye irritation, strong odor, and equipment and building deterioration in untreated pools. Overall, UV pool sanitation is an environmentally friendly solution for improving water and air quality for the comfort and safety of swimmers and spectators.
According to John Neiweem, Director of Physical Plant Services at New Trier High School, "We have been very impressed with Adolph's personal response to our system. The installation process has gone well." However, with less than a month of operations underway, Mr. Neiweem explains that New Trier is not prepared to make any evaluative comments on the effectiveness of the new system. After six months, New Trier will determine if the system is meeting its objectives. Kiefer looks forward to an ongoing relationship with New Trier and anticipates a positive review.
Although the benefits of UV technology are plentiful, the majority of commercial pools in the United States are operating without. John Vuckovich, Kiefer's UV Sales Manager, explains that the use of ultraviolet pool sanitation is popular in Europe, where the technology was first introduced about 20 years ago. According to Vuckovich, "UV is gaining attention in the United States. Facilities are eager to learn how UV can improve the water and air quality in their pools while using less chemicals thereby contributing to a greener environment. And Kiefer, who is known for its contributions to safety in the swimming industry, is willing to educate."
About Adolph Kiefer & Associates:
Gold medalist Olympic swimmer Adolph Kiefer founded Adolph Kiefer & Associates in 1947. As the official aquatics supplier to the 1948 U.S. Olympic Swim Team, the company introduced the first nylon swimsuit as a lightweight alternative to wool and cotton suits and a cost alternative to the silk suits of the time. Since then, Kiefer has provided the swim community with many innovative aquatic performance and safety products including the original Wave Eater racing lane, fully customizable starting platforms, lifeguard equipment and apparel, and a complete line of competitive swimwear and goggles. Today, Mr. Kiefer continues to dedicate his life to helping swimmers of all ages and abilities. The company sponsors a full calendar of competitive swimming events and is a top competitive swim team supplier. For more information about Adolph Kiefer & Associates, visit http://www.Kiefer.com.
###