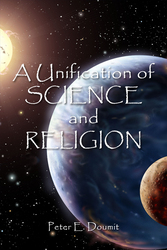 Palisade, CO (Vocus) September 2, 2010
A Unification of Science and Religion, a new book by Pete Doumit, has been released by RoseDog Books.
Do we have to believe in either God or science? Or can we believe in both God and science? And is there a logically tenable position with regard to the unification of science and religion? These are some of the questions that are addressed in this book. From quantum physics to the Big Bang, evolution by natural selection to geologic time, the author discusses the rationality of religious faith in light of modern scientific findings and seeks to dismantle the false dichotomy between science and religion. In this book, you will find a compelling case made that shows not only that science and religion can be unified, but that they should be unified.
Pete Doumit is a consulting geologist with a background in education. A former high school science teacher and junior college geology and astronomy professor, Mr. Doumit has experienced first-hand the questions that surround the roles that science and religion play in the lives of many people. He holds a B.S. in Natural Science with a Geology emphasis from the University of Puget Sound, and an M.A. in Earth Science with a Geology emphasis from the University of Northern Colorado. He resides in western Colorado with his wife and three children.
A Unification of Science and Religion is a 260-page paperback with a retail price of $23.00. The ISBN is 978-1-4349-9858-3. It was published by RoseDog Books of Pittsburgh, Pennsylvania. For more information or to request a review copy, please visit our virtual pressroom at http://www.rosedog.com/pressroom or our online bookstore at http://www.rosedogbookstore.com.
###