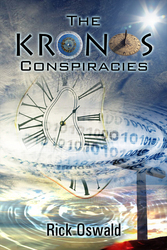 Beaver Falls, PA (Vocus) September 2, 2010
The Kronos Conspiracies, a new book by Rick Oswald, has been released by RoseDog Books.
A clandestine scheme by an organization of international scientists, called Kronos International Time Excursions, after years of research and failed experiments, has finally come to fruition. After assembling and training a crack team through a painstaking elimination of qualified candidates, they are now ready to send the first time travelers back to the First Century and the time of the birth of Christ.
Complications arrive when rejected candidates from the mission search, combined with disgruntled and unscrupulous investors team up to sabotage the efforts of Kronos. A frantic adventure unfolds in various historic venues as the twenty-first century interlopers vie for control of the time-space continuum. It is not long before they all realize their own survival is as stake and each of them potentially risks being stranded in the past forever.
Rick Oswald was born in Ellwood City, Pennsylvania, and currently lives in Beaver Falls, Pennsylvania with his wife Sharen. He has been the State Adviser of Pennsylvania Federation of Junior Historians and Student Historians since 1968, and has been an adviser in Blackhawk school district since 1965, where he also taught English and social studies for 37 years.
He has three children, Meredith, Richard, and Emily and also has three grandchildren.
The Kronos Conspiracies is a 648-page paperback with a retail price of $29.95. The ISBN is 978-1-4349-9882-8. It was published by RoseDog Books of Pittsburgh, Pennsylvania. For more information or to request a review copy, please visit our virtual pressroom at http://www.rosedog.com/pressroom or our online bookstore at http://www.rosedogbookstore.com.
###