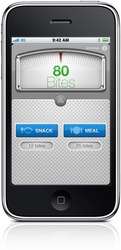 New York, NY (PR Web) September 1st, 2010- The sound of an apple crunch, the sensation of tapping in rhythm with bites eaten and the sight of the scale moving in sync, combine to make "80 Bites" a 'must have' App. Its sleek graphics and engaging technol
New York, NY (PRWEB) September 1, 2010
The sound of an apple crunch, the sensation of tapping in rhythm with bites eaten and the sight of the scale moving in sync, combine to make "80 Bites" a 'must have' App. Its sleek graphics and engaging technology appeal to the modern user.
How does it work?
80 Bites has audio indicators each time you take a bite. Sounds change when you've reached your limit for each snack or meal—so you know when it's time to stop without even looking! Also there are written alerts reminding you to slow down and chew each bite. It's like eating with your own Nutritionist!
Features:

Tap screen to record bites in real time
Sound indicates each time you take a bite (can be turned off)
Sounds change as you reach bite limit for each meal and snack
Intuitive design makes counting fun
Tracks when and how much you eat each day
Displays graph of daily and weekly bite consumption
Shows percentages for over or under daily bite limits
Paces your eating to aid in digestion
Calms and relaxes while you tap
Why should we count?
We see over-consumption everywhere; it's destroying our bodies, our economy and our environment. Let's face it: we need to take a good look at the impact of our own over-eating. Even eating too much "good food"—the definition of which gets revised regularly-- stretches our stomach and wallet, leading to MORE eating, MORE health problems and MORE strain on our natural resources! Now you can get a real sense of your long-term consumption with the Bite History Log and Graph.
Background:
80 bites a day… who says? Doctors, Harvard School of Public Health, U.S. Government Food guidelines, Registered Dieticians, weight loss programs, and even some chefs. True, they talk in portions or serving sizes—not bites. But how do we use serving size when we are at a restaurant or eating on the go? Not possible! So Meredith Luce RD, MS, LN has done the tedious work of translating all of these portion guidelines into bites—80 to be precise!
Pricing and Availability:
80 Bites is available for worldwide immediate download for the iPhone, iPad and iPod Touch at the Apple App Store for $.99. For more information about the 80 Bites App, please visit http://www.80bitesapp.com.
Creators:
Meredith Luce MS, RD, LN has counseled overweight/obese patients, particularly those with stomach reduction surgery, for almost 3 decades. She developed the bite tool in response to nutrition overload-- "You don't need a PhD in Nutrition to eat a sandwich."
Joan Breibart, President of the PhysicalMind Institute, has practiced TheMethodPilates for four decades and is credited with putting Pilates on the fitness map in the Nineties. 80 Bites is the nutritional counterpart of the Pilates principle of "less is more."
Contact us at info(at)80bitesapp(dot)com
Become a fan of 80Bites on Facebook at http://www.facebook.com/80Bites or follow us on Twitter @80Bites.
###