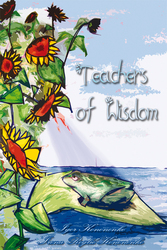 Pittsburgh, PA (Vocus) September 2, 2010
Teachers of Wisdom, a new book by Dr. Igor Kononeko, has been released by RoseDog Books.
Teachers (the Sages, Self-realized, Freed, Awakened, Perfected, Enlightened) were appearing and are still appearing in all the ages on all the continents, most often when we need them the most. The collection in this book describes 79 personalities for whom there exist historical documents about their lives, works and teachings. All sages claim that the Truth is indescribable; therefore we should read, study and meditate about their teachings not only with our mind but also at the same time intuitively feel them with our hearts. As the sages are consistent regardless of the time, location, culture or tradition, it is obvious that they all declare the same Truth, although each of them uses his or her own terminology and style for describing the indescribable Truth. 'Written wisdom' is, of course, a relative term, as the true Wisdom is in principle indescribable. Its numerous descriptions, collected in this book, show the innumerable ways in which Wisdom can be expressed and the innumerable paths through which we can attain It.
Teachers of Wisdom is a 418-page paperback with a retail price of $33.00. The ISBN is 978-1-4349-9898-9. It was published by RoseDog Books of Pittsburgh, Pennsylvania. For more information or to request a review copy, please visit our virtual pressroom at http://www.rosedog.com/pressroom or our online bookstore at http://www.rosedogbookstore.com.
###