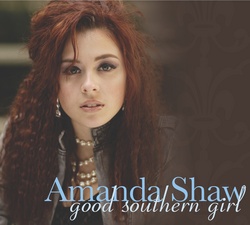 "This album is so great because you can hear creative freedom radiate through every second of its 42 minutes," says producer Trina Shoemaker, who won a Grammy for her work on Sheryl Crow's The Globe Sessions.
New Orleans, LA (PRWEB) September 1, 2010
Recording artist Amanda Shaw takes the national stage with the release of her fourth studio album, Good Southern Girl. Produced by Grammy winner Trina Shoemaker, the album features Shaw's traditional track selection formula, which consists of original tunes, classic covers and the traditional fiddle-fare that Shaw is famous for. Good Southern Girl also marks Shaw's debut with Poorman Mayfield, the newly established record label founded by world-renowned jazz musician Irvin Mayfield.
"The release of Amanda's album marks a major milestone for Poorman Mayfield and for the music industry as a whole," says Mayfield. "The world hasn't seen a fiddler like Amanda before, her talent knows no bounds."
The album was recorded in Shaw's hometown of New Orleans with Shoemaker, the first woman to win a Grammy for best engineered album with Sheryl Crow's The Globe Sessions. Under the guidance of Shoemaker, Amanda reached previously unrealized heights, which is clearly translated in the tone and quality of the album.
"I love sharing my own songs with the world," says Amanda. "I describe my title track, Good Southern Girl, as a tribute to what I value most: good music, good food, good life. My music pulls from all New Orleans genres; I consider my sound to be roots meets rock n' roll."
"This album is so great because you can hear creative freedom radiate through every second of its 42 minutes," says Shoemaker. "Not many artists, or record producers for that matter, are given the keys to the studio so to speak. Poorman Mayfield provided the resources and let Amanda and I collaborate from there."
The record will be distributed by Megaforce Records and is available via ITunes, Amazon.com and at PJ's Coffee throughout the Southeast. Shaw plans a national tour to accompany Good Southern Girl's release with dates in New York, Los Angeles, Philadelphia and Chicago secured. For more information on Amanda Shaw or Good Southern Girl please contact Lauren Lagarde at [email protected]
About Poorman Mayfield
Poorman Mayfield, founded in 2009 by Grammy-winning artist Irvin Mayfield, is conceived in the spirit of an artist owned and operated label committed to highlighting and nurturing New Orleans musicians. The label is dedicated to introducing their artists to a national audience and growing awareness of the historic and cultural importance of the New Orleans music scene.
###