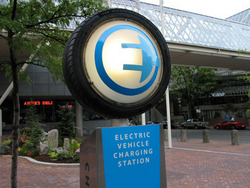 We urgently need to reduce oil dependence in the short term. This means lowering demand and utilizing substitutes as cheaply and quickly as possible. - James Woolsey, Partner and Senior Advisor, Vantage Point Venture Partners, Former CIA Director
Palo Alto, CA (PRWEB) September 2, 2010
This September 16-17th, leading transportation and energy experts, policy makers, manufacturers and environmental organizations will converge at Stanford University in Palo Alto, California to address the challenges and opportunities surrounding the new transportation emission standards and technology incentives soon to be announced at the federal level.
The Conference, "Climate Change and West Coast Transportation: Toward a Clean, Green and Smart Transportation Corridor", is being hosted by the West Coast Corridor Coalition and the Stanford Precourt Energy Efficiency Center. It is the first and largest event to bring state and regional officials from California, Oregon, Washington and Alaska together with the federal agencies issuing the new rules.
Thanks to the generous sponsorship and support of the Bay Area Air Quality Management District, Idaho National Laboratory, Ford, American Association of State Highway and Transportation Officials, Electrification Coalition, EPA, EDF, AAA, MTC, ABAG and several other federal and state agencies, a review of the opportunities and challenges facing transportation will be covered in the two day program.
Margo Oge, Director of the Environmental Protection Agency's Office of Transportation and Air Quality, will address the tougher federal fuel and emission standards that lie ahead. James Woolsey, former CIA Director now with Vantage Point Venture Partners, will share insights on moving from oil to alternative fuels from the important perspective of national security as well as climate.
Specific issues to be addressed at the conference include: What regulatory reforms and incentives can best accelerate and integrate the technologies that will reduce our dependence on oil? What are the practical limits on the new technologies in setting new and advanced standards? How fast can new vehicle and maritime technologies be developed and deployed? What are the next steps to implement an agreement signed earlier this year by the three west Coast Governors called the Pacific Coast Collaborative, which includes a green highway action plan for the I-5 corridor? What strategies will be most effective for the sake of the environment, economy, jobs, and national security?
Currently 97% of our transportation is fueled by oil, most of which is imported, costing the U.S. economy a billion dollars a day. In issuing his directive on new technologies, President Obama said, "We know that our dependence on foreign oil endangers our security and our economy. We know that climate change poses a threat to our way of life. And we know that our economic future depends on our leadership in the industries of the future."
Conference attendees will have ample opportunity to see and experience some of the latest entries in the expanding universe of alternative fuel vehicles. Ford's all-electric Focus, GM's Chevy Volt, Toyota's plug-in Prius, Fisker's Karma, Tesla's Model S and EVs from Better Place will all be showcased, in addition to light and heavy trucks from eStar, Paccar and ALTe.
Attendance at the conference is still open to those interested in becoming better informed on climate policy and west coast transportation initiatives. More information and online registration is available at: http://www.regonline.com/ClimatePolicyConference.
The West Coast Corridor Coalition is comprised of public and private transportation related organizations on the west coast including state DOTs, MPOs, ports, railroads, trucking interests and other concerned with improving mobility in a clean, green and smart manner.
###