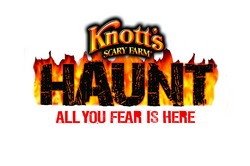 Buena Park, CA (Vocus) September 1, 2010
Knott's Scary Farm is preparing for the witching season, the annual opening of the world's largest Halloween celebration in the world – Knott's Halloween Haunt. Starting September 24 and running for 27 horrifying nights the typically family friendly theme park will transform itself for its willing victims into 160-acres of sheer terror.
Knott's Halloween Haunt continues to be the leader in theme park Halloween events offering a whopping 13 mazes, seven hair-raising shows, three horrific scare zones and 1,000 roaming monsters roaming throughout the entire park.
New Mazes
Locked in a cement grave for decades, hidden deep below the depths of the lake, an abandoned "Fallout Shelter (in 3D)" is crawling with human /genetic hybrids, toxic mutants, and a host of nuclear freaks all hungry for carnage. Grab your Geiger counters and put on your radiation suits these residents are ravenous.
Ghosts and ghouls, witches and goblins, long legged beasts and things that go bump in the night are all at your heels as you travel through the night through "Sleepy Hollow." Specters and phantoms and legends of long ago haunt the living. Can you outrun the Headless Horseman? Can you keep your wits, or will you lose your head as well?
Welcome to Pleasanton – Population: Zero. The highly infectious "Virus Z" has turned the entire town into cannibal zombies and you're this week's special. Hordes of bloodthirsty corpses roam the small town in search of fresh meat. Help has arrived, but they are not on a rescue mission – they are here to wall off the entire town from civilization.
Returning Mazes
The inmates really are running the asylum in this nightmare prison, "Lockdown: The Asylum," and insanity reigns supreme. The inmates are out of their cells and their minds. And don't scream for help, this hostile takeover has the authorities running for cover!
Step back in time and into the fog-filled streets of London where a host of infamous characters are on the prowl terrorizing city dwellers. Step lively or you may fall victim to Jack the Ripper's blade or Dr. Jekyll's twisted experiments as Big Ben rings out in "Terror of London." God save the Queen…..and you!
Venture into the forbidden jungle of El Chupacabra where sacrificial blood rains down from the sky. The screams of La Llorona, the Weeping Woman, echo around you and the creatures of the night crawl from their crypts – "Dia de los Muertos," the "Day of the Dead" has arrived!
Step right up! Don't be shy! Welcome to "Uncle Bobo's Big Top of the Bizarre in 3D." Inside you will find a villainous variety of vaudevillian visages to vex even the most valiant voyeurs! It's the greatest slaughter on earth with clown carnage galore!
Enter "The Labyrinth" for a journey through a forgotten forest and into the dark catacombs that lie beneath a ruined castle. The evil king is dead, but his cursed court still haunts the dark passageways and mythical beasts come to life as you try to navigate the never-ending corridors.
Folks from near and far come a-runnin for Farmer Willy's world famous BBQ! You can smell the sizzling meat from miles away. And now you can learn his secret first hand as you enter "The Slaughterhouse." Farmer Willy will think you are prime beef as he sets out to auction you off to the highest bidder, tenderize you with his chainsaw, and grind you into a tasty meat treat. Bon Appetit!
"Black Widow's Cavern" takes you to the heart of an abandoned mine overrun by a horrific pack of deadly arachnids. A trip to "The Doll Factory" reveals a twisted museum of death and disfigurement as you are pursued by the Marionette Murderer, a psychotic killer who turns his beautiful victims into life-size porcelain dolls.
In "Club Blood" the music is hypnotic and the cocktails are bloody. In the dark underbelly of the city human victims are drained of their life to nourish the children of the night. Join the hypnotic dance macabre and explore the darkest nightlife around.
It's harvest time and the crop is you in "Corn Stalkers." Plunge into rows and rows of rotting corn and try to evade the blood thirsty monstrosities seeking to impale you on their razor sharp scythes.
Heart pounding? If not, Haunt's Scare Zones will take care of that! These dark, fog-filled, face-to-face monster encounters stretch throughout the Park and will sneak up on you before you have time to take a final breath.
New Scare Zone
Take a sightseeing tour of Knott's newest scare zone, "Necropolis," a vampire world of flesh and machine, of gears and steam. Journey through the streets of this steam punk influenced city of the dead and discover the only truth in town: Blood is power.
There is no place quite like "Ghost Town," home to a whole cast of night stalkers including the notorious Sliders who lurk in every fog-filled corner. You can't see your hand in front of face as you try and navigate the winding streets that may just lead to the graveyard!
Knott's Boardwalk is taken over by "CarnEVIL," where the freak show is the main event and clowns crave your undying attention.
Shows
A trip to Halloween Haunt would not be complete without the shows! See one, see them all – Knott's entertainment offers so many twisted choices.
In the Ghoul Time Theatre Ed Alonzo offers up his "Psycho Circus of Magic and Mayhem." This self-proclaimed Misfit of Magic brings slight-of-hand, slight-of-mouth and slight of mind to this insane, psycho-sensory production.
The Wagon Camp will be ablaze with Inferno. This lethal combination of fire, dance and pulsating music returns to create one of Haunt's "hottest" shows with fire poi, staves, swords, hoops, fire eating and more!
At Necropolis Theatre guests can watch the ghoulishly great performance of Street Drum Corps' BANG!'s "Blood Drums" show. BANG!'s high energy drumming quartet is known for their unique blend of amazing percussion skills with ordinary found objects. Take in the pulsating power as this extraordinary drum troupe mesmerizes with percussive rhythm, music and lights.
For those who enjoy improvisational comedy, the Hacks! group presentation of "Die, Die, Die!" will have you in stitches with their maniacal humor. And in the Boardwalk Ballroom the Hypnochick will have you mesmerized.
At the CarnEVIL stage, "Zamora's Sideshow of the Bizarre" returns. Zamora, the King of Torture, amazes audiences with his mind blowing, invasive, self-inflicted pain and torture. He amuses, amazes and makes your skin crawl!
And of course no Haunt would be complete without the legendary "Hanging" in Calico Scare. The Calico Courthouse has been transformed into a mausoleum where the townsfolk are invited to gather and let their voices be heard. Evil must be punished!
Knott's Halloween Haunt dates are September 24-26, September 30-Oct. 3, 6-10, 13-17, 20-24, 27-31, 2010. Event hours are 7pm - 1am; Fridays and Saturdays from 7pm-2am.
The Halloween Haunt at Knott's Scary Farm is a special ticket event not covered by regular Knott's Berry Farm admission. Ticket prices are $33 - $50 presale online and $56 day of event.
Haunt tickets are available at Knott's Guest Relations, can be purchase by phone at Knott's Haunt Line (714) 220-5000 or online at http://www.knotts.com (service charges apply).
In addition to the event itself, Knott's offers the popular "add-ons." Packages for fright fans wishing to expand their experience include the park's "Pre-Scare Dinner," offering ticket holders dinner and early access to the event; three Haunt-inspired overnight packages at the Knott's Berry Farm Resort Hotel; and a VIM (Very Important Monster) Escorted Tour for up to 6 guests.
Once again Knott's Pre-Scare Dinner Special offers Haunt ticket holders a themed "boo-ffet" dinner followed by early entry into Haunt a few minutes before it opens to the public. This VIP dinner is $20.99 including tax and gratuity (does not include Haunt event tickets). This special offer is available each night to Haunt ticket holders only with advance dinner reservations. For reservations, visit Knotts.com or call (714) 220-5055. Walk-up boo-ffet price is $25.99.
For Knott's Scary Farm guests looking to prolong their Halloween experience – or who are just too scared to drive home, Halloween themed hotel packages are available at Knott's Berry Farm Resort Hotel starting as low as $149. Three packages are available which include various amenities and tickets to the premier Halloween themed event, Knott's Scary Farm's Halloween Haunt. For reservations or more information, call the Knott's Berry Farm Resort Hotel at (714) 995-1111 or (866) 752-2444 or visit http://www.knottshotel.com.
For guests wanting to minimize their time waiting in Halloween Haunt attraction queues, Knott's offers a VIM (Very Important Monster) Escorted Tour featuring event admission and front of the line access to Haunt attractions. Prices are $2,000 for 1-6 guests (includes one personal escort). Please call (714) 220-5298 for reservations.
Halloween Haunt is a scary event and definitely not recommended for children under 13. There are no guest costumes or re-entry privileges allowed for this event.
For the younger set, Snoopy's Costume Party in Camp Snoopy is an alternative daytime non-scare celebration of Halloween cheer rather than fear offered weekends October 2-31, 10 am to 5 pm and is included with regular park admission. This special, family event includes friendly monsters, a kid-friendly maze, crafts, and of course, trick-or-treat stations. For more general event information on Halloween Haunt, call the Haunt Line at (714) 220-5200. Press inquiries should be directed to (714) 220-5130.
Halloween Haunt®
All Your Fears Are Here
Next of Kin: Michele Wischmeyer
Jennifer Blazey
714-220-5130
###