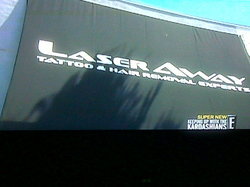 "We've always taken pride in featuring the industry's best technology, not to mention well-trained and friendly medical staff."
Los Angeles, CA (PRWEB) September 2, 2010
LaserAway, Southern California's premiere tattoo and laser hair remova l specialists, were visited by starlet sisters Kim and Khloe Kardashian on the August 29th episode of their hit show "Keeping Up With the Kardashians."
In the episode ("Blind Date"), Khloe went to LaserAway at Kim's recommendation for her first-ever laser hair removal treatment. Both sisters received laser hair removal on camera. While being treated, the sisters discussed Kim's high standards for a date and Khloe's relationship with husband and Lakers star Lamar Odom. The Kim Kardashian laser hair removal habit has been public on multiple occasions.
Since 2006, LaserAway has been SoCal's #1 spot for people seeking permanent hair removal as well as laser tattoo removal, skin rejuvenation, Botox, and other beauty procedures. With seven locations and over 10,000 customers, many Hollywood celebs depend on LaserAway for skin treatments. Laser hair removal involves an invisible beam of light destroying the follicles beneath the surface of the skin. This ensures that the hair never grows back and that surrounding skin remains smooth, firm and youthful. Laser hair removal is the most high-tech and permanent method of removing unwanted body hair.
LaserAway is thrilled to have hosted the Kardashian sisters and to have been featured on their hit E! reality series. Their website (LaserAway.net) has generated thousands of hits since the episode.
"It was exciting they chose to film their treatment with us," said Dr. Shalini Kapoor, LaserAway's medical director. "We've always taken pride in featuring the industry's best technology, not to mention well-trained and friendly medical staff. As our clients have found, the result is a comfortable, casual environment…a safe and relaxing alternative to a typical and expensive doctor's office."
###