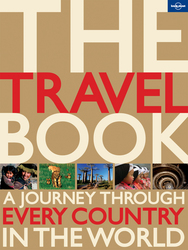 Oakland, CA (Vocus) September 3, 2010 -
The international best seller is back! The first edition of this photographic journey sold more than half a million copies across the globe. The new edition of The Travel Book contains 100% new content, including 850 stunning images and completely updated text.
Most travel journeys take in just a country or two, but the journey of The Travel Book features every single country on earth. And each one, no matter how large or small, is presented in a double-page spread – from Afghanistan to Zimbabwe, from the postage-stamp–sized Vatican City to the epic expanse of the Russian Federation. This is the definitive pictorial on travel across our vast planet and deserves a place of honor on every globe-trotters coffee-table.
Highlighted by some of the finest photography in the world, The Travel Book offers a glimpse of each country's perks and quirks, when to go, what to see, how to eat it up and drink it in, and ways to immerse yourself in the life and the land. What results is a grand snapshot of our diverse and kaleidoscopic world rather than an encyclopedic reference. It's a book that unashamedly views the planet through the prism of the traveler, focusing on places for their beauty, charm or singularity, even if this does sometimes conflict with defined political or geographical borders.
We hope The Travel Book inspires a world of travel.
About the Book:
The Travel Book, 2nd edition
448pp, hardcover, full color, $50.00
ISBN: 978 1 74179 211 9
###