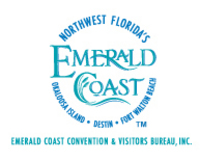 Destin, FL (Vocus) September 2, 2010
The Okaloosa County TDC joins Team 42 at the Great Clips 300 in Atlanta this Saturday, September 4th. The TDC is promoting their Million Dollar Gift Card Giveaway. Guests who stay a minimum of two nights in Destin, Fort Walton Beach or Okaloosa Island will be given a $200 gift card. A total of five thousand gift cards will be distributed. The launch date is anticipated to be September 17, 2010.
Mark Bellinger, President and CEO of the TDC, says, "The tourism agency is excited to partner with GetMoreVacations.com on the upcoming race in Atlanta. Atlanta is an extremely important market for the Destin, Fort Walton Beach area. The exposure will benefit our businesses and the local economy. We hope to drive the viewer to our tourism web site to learn about the abundance of specials and opportunities for our visiting guests. The fall season is a wonderful time of the year to visit the Emerald Coast!" Bellinger will be attending the race.
Fans can call the TDC for more information at (850) 651-7131. Fans can also register to win a free vacation on the TDC's website, http://www.destin-fwb.com by clicking on the WinBigGMV icon. All partners look forward to the race this weekend in Atlanta and encourage all NASCAR fans to visit the beautiful beaches on the Gulf Coast.
GetMoreVacations.com continues to promote their vacation sweepstakes where guests can win a 4 day, 3 night stay at any of their properties in 8 states. The vacation properties on GetMoreVacations.com not only have the best beaches but the best deals! And, every property on the site includes free activities like golf, theater shows, water parks and amusement parks every day of your stay.
After the Deepwater Horizon Oil Spill, Nationwide team owners and Destin, Florida residents, Eddie Smith and Darrell Blanton merged their teams in an effort to get vacationers back to the emerald waters and sugar white beaches on the gulf coast. Since the merger, Team 42 has finished 13th in Chicago and 9th in Bristol. David Gilliland will drive Team 42's car in Atlanta where he qualified 6th last year.
Media contact:
Susie Cross, Amenity Services, Inc.
(GetMoreVacations.com)
(850) 337-4510.
###