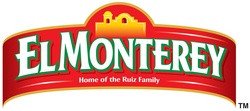 We have transitioned our classic Mexican food favorites from a traditional box to a recloseable bag due to our consumer's direct input
Dinuba, CA (Vocus) September 1, 2010
El Monterey reintroduces their snack line of 12 Mexican food favorites that are all perfect for parties, snacks and meals. The recloseable bags are freezer friendly and convenient.
"We have transitioned our classic Mexican food favorites from a traditional box to a recloseable bag due to our consumer's direct input," explains Bryce Ruiz, President & CEO, Ruiz Foods. "It began nearly one year ago when we reintroduced our El Monterey Flour and Corn Taquitos in a recloseable bag and found the consumer's response to be overwhelmingly positive. 'Convenience IS important' they were telling us and now our consumer can find all of their Mexican favorites in convenient recloseable bags. We've even taken this opportunity to introduce a new item – in two flavors – Mini Chimis."
The packaging transition includes El Monterey Taquitos, Quesadillas, Mini Chimis and Tamales offering consumers a colorful design and a wide variety of favorites for every member of the family.
1. El Monterey Flour and Corn Taquitos: 16 count each
Shredded Steak Taquitos (White Corn Tortillas)
Chicken Taquitos (White Corn Tortillas)
Chicken and Cheese Taquitos (Flour Tortillas)
Shredded Steak and Cheese Taquitos (Flour Tortillas)
Breakfast Taquitos Egg, Bacon and Cheese (Flour Tortillas)
Southwest Chicken Battered Taquitos (Flour Tortillas)
Taco Bean and Cheese Battered Taquitos (Flour Tortillas)
2. El Monterey Grilled Chicken and 3 Cheese Quesadillas – made with real cheeses and tender grilled chicken; 6 count each
3. El Monterey Nacho Cheese and Beef Mini Chimis and El Monterey Chicken and Cheese Mini Chimis; 14 count each
4. El Monterey Chicken Tamales and El Monterey Beef Tamales – steam-cooked the traditional way and hand wrapped in real corn husks; 6 count each
ABOUT RUIZ FOODS
Ruiz Foods is a privately owned corporation with corporate offices in Dinuba, Calif. Third-generation Bryce Ruiz, the elder son, is president and CEO. Kim Ruiz Beck, the elder daughter of Co-Founder and Chairman Emeritus, Fred Ruiz, is chairman.
Ruiz Foods is dedicated to premium quality, authentically prepared frozen foods selling to all channels of distribution: retail, convenience store, clubs, vending, industrial and foodservice. The Tornados® brand, introduced just eight years ago, has revolutionized the use of the roller grill in convenience stores and, more recently, is also available in retail grocery stores nationwide. The El Monterey® brand is the market leader within the frozen Mexican food category and the No. 1 brand of frozen Mexican food in the U.S. Ruiz Foods employs over 2,500 Team Members in three facilities located in the U.S. For more information regarding Ruiz Foods, please visit http://www.ElMonterey.com. For more information about Tornados, please visit http://www.MyTornados.com.
###