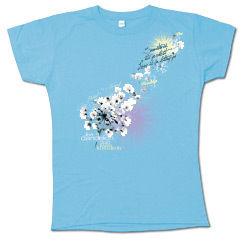 We are so excited to be a part of this wonderful film
Berryville, AR (Vocus) September 2, 2010
Vic Kennett, CEO/President of Kerusso, the premier producer of Christian-themed apparel in the U.S., has announced the selection of Kerusso as the official apparel partner for Like Dandelion Dust, the new film based on the novel by New York Times best-selling author Karen Kingsbury.
Winner of more than thirty film festival awards, including a dozen Audience Choice Awards for Best Picture, and recipient of the Heartland Truly Moving Picture Award, Like Dandelion Dust, may be "the next Blind Side" according to USA Weekend.
Starring Academy Award® Winner Mira Sorvino, Golden Globe® Nominee Barry Pepper, and introducing child actor, Maxwell Perry Cotton, Like Dandelion Dust is the story of one family determined to keep the son they love, and another determined to begin a new life, the life they've always dreamed.
This powerful movie opens on screens nationwide on September 24th. Like Dandelion Dust (http://www.likedandeliondust.com) is being brought to local cinemas by popular demand of grassroots fans of Karen Kingsbury's work.
"We are so excited to be a part of this wonderful film," says Kerusso CEO/President Vic Kennett. "Our T-shirt and tote designs, which were determined by a Facebook poll with Kingsbury fans, will not only promote the movie, but also the incredible message behind it as well: Sometimes the greatest love is in letting go." A portion of the sales of the T-shirt and totes will also be directed toward orphan care in Haiti.
Kerusso is taking their partnership and support of the movie to another level by sponsoring a movie screening in Rogers, AR. Kennett said, "After seeing clips from the Like Dandelion Dust and hearing the mission behind the movie I knew it was something that the residents of Northwest Arkansas needed to see and experience and I wanted to ensure they would have the opportunity."
Bobby Downes, one of the producers of Like Dandelion Dust says, "Kerusso is everything we wanted in an apparel partner - a market leader, and the very best at what they do." Like Dandelion Dust T-shirts and totes are available at retailers nationwide. Find out more about Like Dandelion Dust apparel and totes at http://www.Kerusso.com.
Founded in 1987, Kerusso's passion to share the gospel of Jesus through innovative product continues to this day. For more than two decades, Kerusso has been the premier producer of Christian apparel. Based in Berryville, Arkansas, Kerusso is a major contributor to the local economy. Kerusso merchandise is available in more than 7,000 retailers nationwide. The Kerusso Light House store apparel merchandising system is currently housed in more than 2,000 stores across the nation.
Like Dandelion Dust tells the story of Joey who lives an idyllic life with his parents on the coast of Florida. His days are spent playing with his cousins, sailing with his dad, and making up stories with his mom. It's a perfect life until the day they receive a disturbing phone call: a stranger's decision could tear Joey away from the comfort and security of the only home he's ever known. One family is determined to keep the son they love; the other is determined to begin a new life, the life they've always dreamed of. Joey's future rests in their hands and someone must make the bravest decision of their life.
Sometimes the greatest love is letting go. For more information visit http://www.likedandeliondust.com
For Information & Interview On The Film
Contact: Chris Roslan Chris(at)drcpublicrelations(dot)com
For Information & Interview Regarding Kerusso
Contact: Pamela Rivera at privera(at)kerusso(dot)com or call 870/423-6242 x 306
###