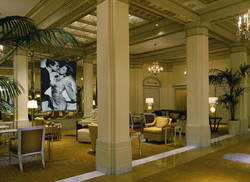 Portland, OR (Vocus) September 2, 2010
Hotel deLuxe's newest package offers nine $25 gift certificates to Portland's top independently owned boutiques, with breakfast (or post-shopping cocktails at the Driftwood Room) and unlimited in-and-out valet parking.
The Portland, OR hotel loves its local businesses and especially loves its local boutiques around town, including idom, Lizard Lounge, Mabel & Zora, Moulé, Oh Baby, Parallel, Popina, solestruck and Physical Element. This is your chance to visit Portland and shop guilt-free!
Package rates start at $249 and can be booked via the Web at http://www.hoteldeluxeportland.com/portland-hotel-specials/ or via phone at (866) 986-8085.
This Portland hotel made a name for itself locally, regionally and nationally with its Hollywood film inspired design. With more than 350 black and white photographs from the Golden Era of Hollywood and an elegant Art Moderne design as a backdrop, the hotel has become a popular home to business and leisure travelers alike. The small, private hotel is elegant and cosmopolitan, yet friendly and unpretentious.
The Hotel deLuxe is known for its close proximity to the Pearl District and the downtown core, as well as its reputation for the highest customer service and its focus on Hollywood film, elegant design and luxury.
About Hotel deLuxe
Like its sister hotel in Portland, Ore., the Hotel Lucia (Condé Nast Traveler's Top 100 Hotels in the World) and its brother hotel in Seattle, Wash., the Hotel Max (http://www.hotelmaxseattle.com), the Hotel deLuxe (http://www.hoteldeluxe.com) is unique in Portland with its film-inspired design and magnified focus on personal guest services – boasting three years running on Condé Nast Traveler's Gold List.
###