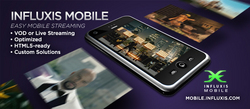 We want to make mobile streaming as simple and affordable as can be without any hassle of contracts, set up fees, or a huge learning curve...
Valencia, CA (PRWEB) September 2, 2010
Influxis, a leading interactive media delivery expert specializing in creative streaming solutions, has launched a new mobile streaming service that is easy-to-use, optimized and HTML5-ready. Influxis Mobile enables customers to stream their video content directly to all mobile platforms, including iPhone/iPad, Android, BlackBerry, Windows Mobile, Palm, Sony PSP and more.
Through its intuitive user interface, the customer can upload a video, and the Influxis Mobile Delivery System (MDS) provides a URL for optimized video playback from any device. The MDS service streams both VOD and live broadcasts.
In addition, all Influxis FMS hosting customers automatically receive free Influxis Mobile accounts which include more disk space and bandwidth than the standard free account available on the Influxis Mobile website. They can easily import their video files from the Influxis FMS server to the Influxis MDS for mobile media delivery.
"We want to make mobile streaming as simple and affordable as can be without any hassle of contracts, set up fees, or a huge learning curve," said Richard Blakely, Influxis CEO. "We've listened to our customers and explored best practices to develop a system that is extremely user-friendly, scalable, with easy-to-read analytics. Our customers so far have been blown away by how quickly and easily they can share their videos with their mobile device viewership. Also the fact that new customers can sign up for a free monthly account provides an open invitation to try the Influxis Mobile service risk-free at their convenience and the accounts never expire."
Influxis Mobile also provides custom mobile streaming solutions for task-specific projects, and will soon offer several more enhancements to the service including additional mobile phone integration and improved live streaming functionality.
Influxis Mobile Streaming is available at http://mobile.influxis.com.
About Influxis
Influxis is the expert in interactive media delivery specializing in the deployment of creative video solutions. Specialties include large scale deployment, cross-platform mobile streaming, turn-key applications, and custom networks for specific media strategy deployment. Influxis Mobile offers an easy-to-use mobile media delivery solution for VOD and live streaming that is HTML5-ready and deployable across all mobile platforms and social networks. With the unique combination of a worldwide network, knowledgeable developer support and over 8 years of media streaming experience, Influxis is recognized for being an essential partner to businesses, advertisers, developers, educators, and others who seek creative network solutions. To learn more, visit http://www.influxis.com.
Media contact
Influxis:
Collin Lee
(520) 901-0960
collin(at)influxis(dot)com
iPhone and iPad are trademarks of Apple Inc.. BlackBerry is a trademark of Research In Motion. Windows Mobile is a trademark of Microsoft. Palm is a trademark of Palm, Inc. Sony PSP is a trademark of Sony Corp.
###