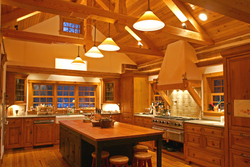 the auction focuses attention on the property and establishes a relative time-certain date of sale, which is especially appealing to sellers of means who are intent on moving on to the next phase of their highly productive lives.
(Vocus) September 2, 2010
Fine & Company WI, LLC the nation's boutique real estate auction company, will auction Lands End, an important Waterfront Door County estate in Gills Rock at the very tip of Door County, Wisconsin. This offering represents a unique opportunity to purchase at auction one of the largest waterfront estates in legendary Door County, one of the Midwest's premier resort communities.
The auction for the estate in Door County, WI will take place on Wednesday, October 13th allowing people to determine just how much they are willing to pay for a chance to own top notch real estate in the Midwest.
Michael A. Fine, principal of Fine and Company, said: "The successful bidder can become the owner of an increasingly vanishing example of Northern Midwest Splendor. Turning off the road and a tree-lined ¾ mile drive towards this character-laden estate serves as a gateway to a gracious way of life transporting visitors back in time. It doesn't get any better than this."
This auction will take place just two weeks following the auction of an 18,000 sq. ft. country estate in Darien, Wisconsin, by Fine & Company WI, LLC. Mr. Fine also noted that "the auction focuses attention on the property and establishes a relative time-certain date of sale, which is especially appealing to sellers of means who are intent on moving on to the next phase of their highly productive lives."
Lands End is one of the few large pieces of waterfront land on the market anywhere in Door County. This estate is ideal for those desiring a country estate with an incredible history in a premiere location on Door County's Deaths Door. Few Door County properties compare to Lands End in creating a historic home with all of the features of modern construction.
Located at 632 Highway 42, the home is available for viewing on: September 18th and 26th as well as October 2nd and October 9th by appointment only with 48 hours notice. Call (312) 278-0600 ext 101 to schedule a private showing.
Situated on twenty acres and located at the tip of Door County, Wisconsin. This unique hand-crafted European style log lodge frames panoramic views of Green Bay affording the utmost in privacy and solitude, this property is absolutely mesmerizing but the story behind the home is even more captivating.
Current homeowners Katie and Charlie Brumder state, "We disassembled logs from seven or eight old log homes brought them here and reconstructed them." They both worked to design the expansion/remodeling project.
Charlie adds, "Each wing is actually a separate building since they couldn't be directly attached to the existing structure. They are linked by connecting foyers."
The 3,800 sq. ft. main house (lodge) features stunning living and entertaining spaces with 4 fireplaces, knotty pine wood floor, first level master retreat, plus three additional bedrooms, and an awe-inspiring sun room! This fantastic estate is located at the Northern tip of the Door County peninsula.
One wing of the home features a spacious well-equipped gourmet kitchen with a family room and eating area that overlooks the property's expansive 750 feet of water frontage. The dining room occupies a portion of the original log structure.
The 900 square foot guest cottage boasts two bedrooms, two full baths, laundry, fireplace and charming characteristics including old-fashioned barn doors, rustic wood flooring with its shabby-chic décor.
Originally on the market for $3.4 million this auction will allow the right buyer a chance to experience Door County with complete serenity.
About Gills Rock, (Door County, WI):
Door County has a well deserved reputation as a summer destination to many of those who can enjoy more than one home in their lives. Homes tend to get passed down from one generation to the next and it seems that no matter where someone moves in the country, if they have spent summers here they are lured back time and time again.
Lands End is perfectly situated at the tip of Door County with views of Washington Island and away from what has become more densely populated areas of the peninsula in the Fish Creek to Sister Bay areas. The Lands End owner can enjoy all of the serenity of what Door County was in the past without neighbors and total privacy while at the same time be only a short drive to all of the amenities consisting of theater, art, outdoor activities and comforts that have evolved in the nearby towns.
Fine adds "Owning a home should not have the effect of a ball and chain around your leg tying you down to a location that no longer fits your lifestyle or needs. Though a difficult market to predict, buyers exist in today's real estate climate, but need to be reached by casting a wider net and having a chance to get a fair deal. The auction is a systematic and sophisticated marketing approach to the sale of real estate not found in conventional brokerage."
A detailed Bidder's Information Packet has been assembled for this home, and contains property specific information, the auction and the Terms of Sale. The purchase of the packet is required to bid at the auction and will be available for sale at all viewing opportunities for $40.00 or by contacting the Project Manager at (312) 278-0600.
Headquartered in Chicago with offices in Dallas and Las Vegas, Fine and Company, LLC specializes in asset-specific marketing and is rated the premier real estate auction company in Chicago having recently successfully completed Chicago's First Gold Coast auction at 1400 N. Lake Shore Drive and currently has listed the Chicago penthouse of 5-time Emmy winner, Kay Alden.
Please call Fine & Company at (312) 278-0600 or visit http://www.fineandcompany.com for more information.
###