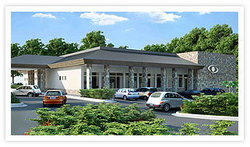 Our intent was to create more open spaces that optimize patient flow and the overall experience.
Grapevine, TX (PRWEB) September 3, 2010
Eye Consultants of Texas, a leading Dallas/Fort Worth area ophthalmology practice, has moved to a new 15,000 square foot facility, carefully planned and built from the ground up. Uniquely functional and aesthetically pleasing, this will serve as the primary location for Eye Consultants of Texas, as well as LoneStar Ambulatory Surgery Center, LLC.
The clinic features seven exam rooms, large waiting room, areas devoted to laser vision correction and a patient coffee bar. According to founder Phillips Kirk Labor, MD, the goal was to enhance the exceptional services the practice has provided for years at its previous Lancaster Drive address. "Patients want the absolute best care, but also to move from one point to another easily and quickly," Dr. Labor says. "Medical facilities can be confining. Our intent was to create more open spaces that optimize patient flow and the overall experience."
The interior features high ceilings, large hallways, well-lit areas and coordinated color schemes, each chosen for its soothing qualities. Copper, the most common, was selected due to its association with healing and relaxation – found throughout the practice and surgery center. In addition, the interior design is purposely minimalist to further reflect the open floor plan.
As with the previous location, the clinic will house the latest, most innovative LASIK technologies. The new facility is intended to maximize efficiency and care when utilizing these technologies for all in-office procedures. Exam rooms are designed for efficiency and comfort as well, for consultations, screenings and general examinations.
Now at 2201 Westgate Plaza, near the intersection of Highway 114 and West Northwest Highway, the new location is less than one mile from its previous Lancaster Drive address. "We've proudly served the Grapevine/Southlake and DFW area for the past 6 years," says Dr. Labor. "When we decided to expand, it was crucial to remain in Grapevine. We were very fortunate to build this beautiful new facility nearby with continued easy access to and from Highway 114."
About Eye Consultants of Texas
Eye Consultants of Texas is a leading Grapevine-based ophthalmology practice providing unsurpassed total eye care to the entire Dallas/Fort Worth area. Founder Phillips Kirk Labor, MD is internationally renowned for his LASIK expertise, and is an authority on numerous other advancements such as no-stitch cataract surgery. He was the first U.S. solo private practitioner to acquire the Ziemer FEMTO LDV for blade free LASIK, and first Texas ophthalmologist to implant the ReZoom lens. In addition, the practice offers Premium Smart Lenses, implantable contact lenses, Conductive Keratoplasty (CK), Glaucoma Management, Optometry, and general eye care. Eye Consultants of Texas is at the forefront of technology. Its leading doctors continuously employ the latest innovations and advanced surgery techniques in an effort to enhance the quality of life for each of its patients.
###