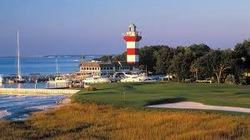 "The Heritage Golf Classic has always lit the torch igniting the kick-off of our vacation season," says Vacation Company spokesperson, Beth Henzler. "This date-change will help to make it a family-oriented week as well."
Hilton Head Island, SC (PRWEB) September 3, 2010
The PGA Tour announces a date change for the 2011 Heritage Golf Classic, which places the final round of golf on Easter Sunday. The Vacation Company of Hilton Head - a long-time provider of accommodations for players, guests, and corporate sponsors - is excited that this year's tournament occurs during a week when many families plan to be together for the holiday and when many schools are on spring break.
Due to a "scheduling anomaly," stated Rick George, chief of operations for the PGA Tour, the 2011 Heritage Golf Classic played annually on Hilton Head Island for the past forty-two years, will be held a week later than usual this year, falling instead during Easter week which ends on Sunday the 24th  of April.  This is not the first Easter Sunday to coincide with the last day of the Heritage Tournament, however it is the first time since the 1970's that it follows the Augusta Masters by two weeks, rather than the week immediately afterward. 
The Vacation Company, a Hilton Head rentals agency that has been one of the tournament's primary providers of accommodations to players, corporate sponsors, and guests, is pleased with this change in dates as it corresponds to a week when more schools are out for spring break.  "We expect this may encourage more family vacation planning traditionally made around this holiday, which includes Maundy Thursday, Good Friday, and Easter Sunday," says Vacation Company partner Bob Hawkins, "which is a scheduling anomaly we can look forward to on Hilton Head!"  It certainly rounds out the karmic circle nicely if one recalls that the very first Heritage Golf Tournament, won by Arnold Palmer in 1969, was held Thanksgiving weekend, the foremost American family holiday.
Hilton Head is fast-becoming the top locale to bring families for vacation because of the many outdoor activities available, great year-round weather, and a green-consciousness that began years before the rest of the world was aware of the need to recycle and conserve energy.  One of the greatest features of building and development aesthetics on Hilton Head Island is that the natural surroundings - comprised of tall pines and oaks, high sea-grass and sea oats, and indigenous wildlife – have been preserved through the years even through the construction of bridges, roads, and community developments.  It all adds to the low-country appeal and The Vacation Company' s commitment to bringing families together in a safe, fun, and healthy environment that they will remember as distinctive to Hilton Head Island.
###