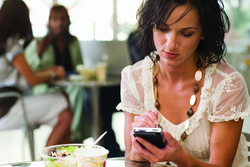 Bethpage, NY (PRWEB) September 2, 2010
Fast and free Optimum WiFi wireless Internet access is now available at hundreds of indoor business locations across Long Island, extending Optimum WiFi as a free value-added benefit to local businesses and their customers. The Optimum WiFi network has now been available on Long Island for two years, allowing Optimum Online customers to get online in an expanding array of locations that also includes the Long Beach Boardwalk, Huntington's Hecksher Park, and popular shore communities.
From the tech savvy to first-time users, Long Island residents are taking advantage of Optimum WiFi in record numbers to get online at more locations everyday. Since its launch on Long Island in 2008, the size of the Optimum WiFi network on Long Island has more than doubled, largely based on customer demand, and now includes nearly 500 indoor retail locations, through a partnership with Optimum Business, which offers home-based and small and medium-sized businesses high-speed Internet and voice communications products along with bottom line benefits like predictable flat rate pricing and highly reliable voice and data services to support their business needs.
To mark two years of service, Optimum WiFi has compiled a list of interesting, unexpected and most of all useful places where Optimum WiFi is available, including local parks, waterfront areas and retail hubs across Long Island, as well as virtually all of the Long Island Railroad's commuter rail platforms and station parking lots. Optimum WiFi is easy to use to do things like get directions, access weather reports and travel advisories, find local business and tourist destinations, upload photos, or just stay connected while enjoying everything that Long Island has to offer.
Optimum WiFi is the nation's largest and most advanced WiFi network, based on geographic coverage, spanning tens of thousands of access points, across the company's Long Island and tri-state service area.
Current Optimum Online customers can access Optimum WiFi using portable WiFi-enabled devices like the iPhone, iPad, BlackBerry, and laptop computers using a simple sign-on screen. Once a customer logs into the service by entering their Optimum User ID and password, the network delivers speeds of up to 3.0 Mbps downstream and 1.5 Mbps upstream. Recently, Optimum WiFi added the "Automatic Sign In" feature that makes using the Optimum WiFi network easier than ever. Users can sign in to Optimum WiFi just once, and their WiFi-enabled device will automatically connect to the network at any of the thousands of locations where Optimum WiFi is available.
Below is just a sample of unique locations where Optimum WiFi is available, for free, today. More information can be found at http://www.optimumwifi.com/, including fully interactive coverage maps detailing exact availability of Optimum WiFi.
NASSAU COUNTY
§ Ocean Boulevard (Atlantic Beach)
§ Blue Door Books (Cedarhurst)
§ Long Beach Boardwalk
§ Great Neck Estates Park
§ Bee Organic (Great Neck)
§ Village Park (Saddle Rock)
§ Arrandale Avenue Town Park (Great Neck)
§ Hewlett Point Park
§ Hewlett Point Yacht Club
§ Woodmere Bay Yacht Club (Bay Park)
§ Greis Park (Lynbrook)
§ Town Dock (Port Washington)
§ Manhasset Bay Marina (Port Washington)
§ Brewer Capri Marina (Port Washington)
§ Haven Marina (Port Washington)
§ Port Washington Yacht Club
§ Shore Road (Glen Cove)
§ Downtown Oyster Bay
§ Marina (Oyster Bay)
§ Seawanhaka Yacht Club (Centre Island)
§ Village Park (Lake Success)
§ Roslyn Clearview Cinemas
§ Empire Jiffy Lube (Floral Park)
§ Jiffy Lube (Valley Stream)
§ Franklin Square Clearview Cinemas
§ Empire Point Marina (Oceanside)
§ Bay Park Fishing Station (Oceanside)
§ Bailey's Marina (Oceanside)
§ Red Mango (Oceanside)
§ Island Park Waterfront and Marina
§ Baldwin Harbor Marine Center
§ Empire Jiffy Lube (Baldwin)
§ Baldwin Clearview Cinemas
§ Nautical Mile (Freeport)
§ Guy Lombardo Marina (Freeport)
§ Malibu Shore Club (Lido Beach)
§ Ralph's Barbershop (Albertson)
§ Five Guys Burgers (Levittown)
§ Downtown Bethpage
§ La Piazza (Plainview)
§ Jiffy Lube (Seaford)
§ Seaford Marina
§ Bagel Boss (Merrick)
§ Bluewater Yacht Club (Merrick)
§ Whaleneck Marina (Merrick)
§ Red Mango (Massapequa)
§ Biltmore Beach Club (Massapequa)
§ Allen Park (Farmingdale)
§ Dugan's Sandwich Shop (Woodbury)
SUFFOLK COUNTY
§ Amityville Harbor Marinas Along Ketchum Avenue and Shore Road
§ Unqua Corinthian Yacht Club (Amityville)
§ Lindenhurst Marina
§ Huntington Village
§ Knutson Marina (Huntington)
§ Crescent Beach (Huntington)
§ Finley's of Greene Street (Huntington)
§ West Shore Marina (Huntington)
§ Huntington Yacht Club
§ Jiffy Lube (Huntington)
§ Hecksher Park (Huntington)
§ Timothy's Pizzeria (Centerport)
§ Northport Park
§ Northport Yacht Club
§ Pitts Park (Elwood)
§ Cedar Road Park (East Northport)
§ Babylon Village
§ Babylon Marina
§ Suffolk Marine Center (Babylon)
§ Long Island Yacht Club (Babylon)
§ Argyle Park (Babylon)
§ Gino's Pizza (Babylon)
§ Babylon Yacht Club (West Islip)
§ Vanderbilt Wharf Marina (Oakdale)
§ Oakdale Yacht
§ Pine Acres Park (Deer Park)
§ Bagel Boss (Commack)
§ Fire Island Ferry Terminal (Bay Shore)
§ Bay Shore Yacht Club (Bay Shore)
§ Dickson Marina (Bay Shore)
§ Seaborn Marina (Bay Shore)
§ Burnett's Marina (Bay Shore)
§ Jiffy Lube (St. James)
§ Islip Town Beach
§ Stony Brook Yacht Club
§ Jiffy Lube (Selden)
§ Long Island MacArthur Airport (Ronkonkoma)
§ West Sayville Boat Basin
§ Subway (Sayville)
§ Brown's River Marina (Sayville)
§ Downtown Port Jefferson
§ Port Jefferson Marina and Ferry Terminal (Port Jefferson)
§ Mount Sinai Marina
§ Corey Creek Park and Beach (Blue Point)
§ Bay Point Marina (Blue Point)
§ Blue Point Marina
§ Domino Yacht Club (Patchogue)
§ Island View Marina (Patchogue)
§ Patchogue Shores Marina (East Patchogue)
§ Bellport Village Marina
§ Carman's River Maritime Center (Brookhaven)
§ Jiffy Lube (Rocky Point)
§ Senix Marina (Center Moriches)
§ Center Yacht Club (Center Moriches)
§ Moriches Yacht Club (Center Moriches)
§ The Water's Edge (East Moriches)
§ Windswept Marina (East Moriches)
§ Eastport Marina
§ Westhampton Beach Tennis & Sport (Westhampton Beach)
§ Westhampton Beach Marina
§ Lighthouse Marina (Aquebogue)
§ New Moon Café (East Quogue)
§ BookHampton (Southampton)
§ Ponquogue Marina (Hampton Bays)
§ Hampton Landing (Hampton Bays)
§ Sag Harbor Marina
§ wellNEST (Sag Harbor)
§ East Hampton Point Marina
§ Maidstone Park (East Hampton)
§ Sunset Cove Marina (East Hampton)
§ Harbor Marina (East Hampton)
§ Laurel Lake Park
§ Great Peconic Bay Marina (South Jamesport)
§ Village Market (Mattituck)
§ Country Corner Café (Southold)
§ Albertson Marina (Southold)
§ Founders Landing Park (Southold)
§ Main Road Marinas (Southold)
§ Shelter Island/Greenport Ferry Terminal (Shelter Island)
§ Shelter Island Marina
§ Downtown Greenport
§ Brewer Stirling Harbor Marina (Greenport)
§ Orient Yacht Club
§ Orient Point Ferry
§ Panoramic View (Montauk)
§ Montauk Bake Shop
§ Montauk Marine Basin
About Cablevision
Cablevision Systems Corporation is one of the nation's leading telecommunications, media and entertainment companies. In addition to its Optimum-branded cable, Internet, and voice offerings, the company owns and operates News 12 Networks, MSG Varsity and Newsday Media Group. Cablevision's assets also include Rainbow Media Holdings LLC and its programming and entertainment businesses, AMC, IFC, Sundance Channel, WE tv and IFC Entertainment, as well as Clearview Cinemas. Additional information about Cablevision is available on the Web at http://www.cablevision.com
###