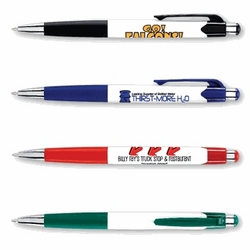 We are very lucky to have partnered up with Vendo Direct, their low prices really help us spread the fire prevention message to a lot of people. They understand our departments needs and know how to make sure that we get the job done right. M. Vidal
Hollywood, FL (PRWEB) September 3, 2010
Personalized pens by Vendo Direct, helps fire departments promote Fire Prevention Week.
Vendo Direct, Inc. has been actively involved with many fire departments across the United States helping them put together many promotional items which carry the message of fire prevention to children and adults alike.
"Fire prevention really amounts to common sense, situational awareness and forward thinking. Unfortunately in our very busy lives it's real easy to forget about the basics and all of a sudden you could have a real dangerous situation to deal with. Having the knowledge to know how to deal with a fire, or how to escape a fire is very important, but we'd much rather not have a fire at all, that's where we come in." stated company spokesman Michael Klein.
Klein continued, "We have many different kinds of promotional items that can be used to help raise Fire Prevention Awareness. Typically the events that a county fire department holds will have a lot of visitors. Fire Prevention events are usually hosted at the county fire department, public schools, or other public places. Because of this we find a great response to our stadium cups, business card magnets, personalized pens and pencils."
"We recommend the stadium cups because they can be printed on both sides (of the cups) at no extra cost to the customer. We suggest that the fire department prints their safety message on one side and the school can put their mascot, or P.T.A. / P.T.O association information on the other side. In many cases we find that local businesses also like to get involved and be sponsors. Often times they will end up splitting the cost with the fire department, school, or county in exchange for printing their logo on the other side of the cups."
"We find that personalized pens and pencils continue to be one of the most effective and well received promotional items to the public at large, especially in an academic setting. Many promotional industry case studies have confirmed that both faculty and students alike look forward to receiving promotional prouducts, with a heavy emphasis placed on writing tools. Most custom pens can accommodate a custom logo or icon and up to 4 additional lines of advertising copy."
Fire Prevention week is being held from October 3, 2010 to October 9, 2010.
Vendo Direct, Inc. kindly reminds you to change the batteries in your smoke detector and to make sure that your fire extinguisher is fully charged. For more information about Vendo Direct, Incorporated, please direct your emails to promos(at)vendodirect(dot)com more information about Fire Prevention Week (FPW) canbe found at your local county fire department.
###