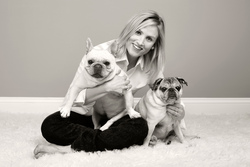 I always wanted products for my dogs that would make my dogs' lives better, and my life easier. At the same time, I wanted the products to look stylish, and reflect my taste and each dog's individuality."
Wayzata, MN (PRWEB) September 12, 2010
After moving from Manhattan to Minneapolis two years ago, Jana Simmons decided to take a detour from her background in law and venture into the ever-growing pet products industry. Starting with just an idea based on experiences with her own dogs, Ms. Simmons got to work researching and designing, and recently launched "Arabella & Fern", a website offering new upscale takes on products for dogs. Simmons has already pledged five percent of Arabella & Fern's profits to the ASPCA.
Arabella & Fern seeks to fill a void in the vast pet product market of stylish, durable, yet easy to use dog products that address real needs of dogs and their owners. "It seemed to me that many of the products for dogs that were practical and durable lacked a design aesthetic I wanted," says Simmons. The company aims to help dog owners keep their dogs happy and comfortable, and also have real life solutions that look good. No more dreading the arrival of company because of that towel over the crate or blanket bunched up on the couch for your dog.
Arabella & Fern isn't just all about looks. "Dog owners know that dogs can be messy--shedding hair, muddy paws, bones covered in drool. For the most part, dog products should be easy to clean and care for," Simmons notes. The company strives to make all of its products easy to maintain.
Simmons explained that the idea for a new product line started when she thought back to experiences she had with caring for her own dogs, and products that she would have wanted. "It started with our product Cuddle Up Pup. I looked back on caring for my dogs as puppies, and remembered how well it soothed each puppy when I put a ticking alarm clock, heat pack, and item of my clothing in the crate. I wanted to spare new dog owners the stress and inconvenience of collecting all those items." And so came Cuddle Up Pup, an easy and stylish solution to that predicament.
The product line currently comprises Cuddle Up Pup, Deco-crate, Super Cudgies, and Cover-all Cudgies, all meant to be as stylish as they are useful--and all based on lessons learned by Simmons in caring for her dogs. All items are assembled in America.
Arabella & Fern has pledged five percent of all net proceeds to the ASPCA as a beginning of its charitable efforts.
# # #