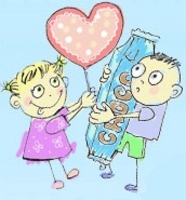 Sweethearts&Candybuns wants to hear the funniest things your kids do and say every day!
Logansport, IN (PRWEB) September 15, 2010
A new website called Sweethearts&Candybuns is taking over the hearts of parents everywhere. The site works as a portal for parents to read and share the funny things kids do and say every day. With countless stories already contributed, the only thing missing is your own tale; and the difference you came make by contributing.
Sweethearts&Candybuns is looking for the world's funniest kids to be featured on the site. The stories can be focused on funny things kids do and say at home, school, the store, etc. The possibilities are endless! Here is one of our top rated stories to date:
"When I had to explain to my children that Christmas would be a little tighter than usual one year, my five year old hugged me and said, "Don't worry mommy, leave the 'spensive stuff for Santa to get." Then panic really set in!"
SweetheartsandCandybuns.com was founded in August 2010 and is based out of Indiana. The site is currently operated by Eric Calisto and Teresa Holaday and is self-funded. The two came up with the site concept after filling a notebook with funny things they had seen kids do. The name for the site originates from the way Eric Calisto used to say "Sweet Tarts" and how his brother would say "candy bars."
Sweethearts&Candybuns hopes to expand into children books, greeting cards, and a possible clothing line featuring kid friendly sayings and graphics. The stories contributed are going to be used as inspiration for the future products as a way to get a better understanding of what kids enjoy.
###