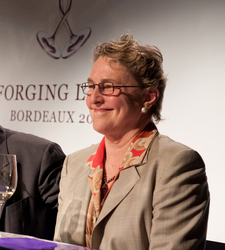 This is a proud moment for me and for Vilafonté, but even greater recognition for the enormous potential of South African wines.
Healdsburg, CA (PRWEB) September 3, 2010
Zelma Long is a renowned Californian winemaker and one of the most awarded female winemakers of all time. Zelma Long and her husband winegrower Dr. Phil Freese are the Californian joint venture partners in Vilafonté Vineyards with well known South African winery owner Mike Ratcliffe of Warwick Estate. Vilafonté is the first and only South African and American winemaking joint venture and is the only South African winery to have been twice nominated for 'New World Winery of the Year'.
These ongoing accolades continue to highlight the Vilafonté achievements in positioning South African wines at the very top end of the quality spectrum.
Zelma Long is a former winner of the James Beard Wine & Spirits Professional of the Year and has been inducted into the James Beard Hall of Fame. Some additional recent accolades include:
Selected by the University of California, Davis, Alumni Association for an Outstanding Achievement award - one of only 6 awarded in 2009.
American Society of Enology & Viticulture Annual Merit Award – the only award in 2009.
California State Fair Vintner Life Time Achievement Award for 2009
American Wine Society 2009 Annual Merit Award Winner
Induction into the CIA (Culinary Institute of America) Vintner Hall of Fame - March 2010
The John Platter South African Wine guide five star award
Other nominees for Winemaker of the Year2010:
Frederic Bonnaffous and Guillaume Pouthier, Negociant CVBG (France)
Bob Cabral, Williams Selyem (California)
Genevieve Janssens, Robert Mondavi Winery (California)
Zelma Long, Vilafonte, (South Africa)
Phillipe Melka, Melka Wines (California)
Wine Enthusiast Magazine's 11th annual Wine Star Awards recognize excellence on all levels of the industry. Profiles of Zelma Long and nominees from other categories will appear in the November issue of the magazine while the winners of each category will be announced and presented in-depth in the December 15 issue. All award recipients will be honored at the annual Wine Star Awards gala dinner on Monday, January 24, 2011 at the New York Public Library in New York City. Wine Enthusiast Magazine's Wine Star Awards Dinner began honoring achievements for the year 2000.
Vilafonte wines are widely distributed across the USA by Broadbent Selection s
Visit our image library
Follow our BLOG
Follow us on TWITTER
###