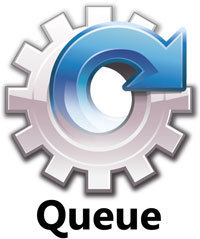 Atlanta, GA (PRWEB) September 3, 2010
In recruiting and staffing offices labor-intensive tasks like having to parse hundreds of resumes or update large groups of candidate, job or employee records reduces staff productivity. Now, Pointwing® recruiting software automates these and similar mass activity actions by turning them into a simple "set and forget" process.
Pointwing's new "Submit to Queue" feature gives recruiters and staffing coordinators the ability to set up a number of different mass operations for processing in the background. Importantly, offloading the processing of such mass activities to the background improves user productivity and performance as the user can go on working in Pointwing instead of waiting for each record process to complete, update and save.
For example a recruiter may have hundreds of resumes to parse from job applicants. All of the resumes can be submitted to the Queue, where they will be parsed automatically in the background, with a new candidate record created for each candidate not already in the Pointwing recruiting software database and duplicate resumes flagged for review. Similarly, a staffing coordinator may have a job order that requires placing many employees. The activities associated with updating all of the records associated with the employees, job order and customer can be submitted to the Queue and processed automatically in the background.
The Pointwing Queue gives the user the ability to manage and track each of the Queue processes. The user can monitor the progress of their processes in real-time and can take actions to cancel or abort processes from the Queue. The user can also easily search for and access processes they have submitted by date, status, operation name, or by submitter.
The Queue also provides a detailed listing of successfully completed or failed activity records within each process which can also be viewed from the record itself. The failed records display a reason for their failure which enables the user to make informed actions to correct the data or resubmit the process. Naturally, in the unlikely event that there is a system failure during processing, the Queue will automatically save and re-start any process that was interrupted.
Partial list of mass activities that can be submitted to the Pointwing Queue
Parse Documents (Resumes)
Create Candidates
Update Candidates
Fill Placement
Close Placements
Add More Placements
Cancel Placement
Update Placement
Mistake Placement
Reactivate Placement
Close Job Order
Create Document
Enable For Self Service
Publish to Self Service
Update Task
Steve Taylor, President and CEO of VCG, said "The Pointwing Queue gives users a truly easy to use means to get more done with less effort by offloading mass activity processes. This saves the end user time and effort and maximizes the use of system resources."
About Pointwing
Pointwing® is a modular recruiting software suite that accelerates the process of finding and placing the people most likely to thrive and streamlines unique business processes to improve productivity, control costs and manage margins. Modules available include:
o Pointwing Front Office – the core recruiting software module that accelerates recruiting and sales by integrating account and candidate/employee management, Smart Match semantic resume search engine, Job Publisher job board posting, Resume Sourcer search spider, job placement, two-way Microsoft Outlook integration and more.
o Pointwing Self Service – a Web portal module that connects the Pointwing Front Office module to your Web site in real-time, enabling you to post jobs and resources/candidates to search for jobs, register and/or update their profile, upload their resume and apply for jobs.
o Pointwing Software Kit – a module which gives you access to Pointwing's open API to create custom applications that integrate with Pointwing or integrate Pointwing with virtually any third-party application.
Pointwing is easily deployed in the manner best suited to your firms' recruiting business operational needs: On-demand software as a service (SaaS) subscription; managed services (licensed software with VCG-hosting); or enterprise (licensed software with self-hosting).
For more information regarding Pointwing or to register for a live online Webinar demonstration, visit http://www.pointwing.com or call 800-318-4983.
About VCG
VCG provides comprehensive staffing and recruiting solutions that power success. Since 1976, VCG has helped hundreds of companies worldwide achieve operational excellence by streamlining their unique business processes and accelerating finding and placing the people most likely to thrive. VCG and Pointwing are registered trademarks of VCG, LLC. For more information visit: http://www.vcgsoftware.com or call 1.800.318.4983.
###