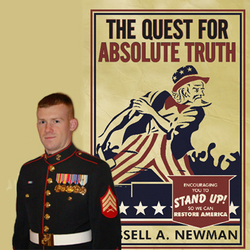 We must rebel against what is---this socialist debacle that is destroying our freedom and the Christian Nation
Alpharetta, GA (PRWEB) September 3, 2010
Newman takes his readers on a journey through the corrupt minds of anti-Christian zealots and restores the foundation of Christianity; sharing with readers the seven steps they can take to restore America to its Christian foundation.
Engaging, charismatic, and enlightening, The Quest for Absolute Truth is a riveting guide to understanding the state of America and how to personally rally for its change. A master wordsmith with a layman's touch, Russell demonstrates how Christianity is the only true religion in a world wrought with misguided beliefs.
A must-read before November's elections, Newman also demonstrates how people's religious principles drive their voting habits and makes clear arguments for what are often considered "shades of gray" in the political arena.
Newman takes the two topics never to be discussed at the dinner table, theology and politics, and creates a rapt interest as he carefully winds both topics together for an enlightening, witty read that leaves readers with a lot to digest.
"We must rebel against what is---this socialist debacle that is destroying our freedom and the Christian Nation," Newman declares. "Energy will emerge from our efforts, but that potential for change will never actualize unless [people] decide to do something. This book was written as a blueprint to help people remedy the very situation they despise."
Newman has selected SONARconnects to implement his media outreach strategy, noting that the communications agency is known for stoking the fire and bringing all walks of life together on a central forum. Newman will use this wide reach to share his message and invite others to weigh in on the subject matter that is his passion.
Scott Dunn, Vice President of Conversations and Communities at SONARconnects says, "We're very excited to be partnering with the publisher to help Mr. Newman launch his book sales. He has developed a powerful message that will start a lot of conversations and we are pleased to leverage the communication strategies we've developed to help his book reach his target market."
SONARconnects provides expert marketing techniques in today's virtual world by mining relevant messages and delivering them through social media forums, blogs and micro-blogs, podcasts, video, and television to help clients expand, connect and bond with their customer base. Dunn goes on to say, "Social Media is bar none the best channel for authors to promote their books and we look forward to helping Mr. Newman's book realize its full potential."
For excerpts of The Quest for Absolute Truth, to purchase a hard or soft covered copy of Newman's book, or to request the author's appearance for a speech or book-signing event, visit our site The Quest for Absolute Truth.
###