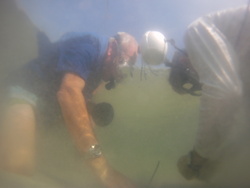 Human impact on the world's ecosystems is profound. As habitats are destroyed or degraded, the diversity of species and the complex relationships among them are threatened, with consequences for all living things – including humans
Baltimore, MD (Vocus) September 2, 2010
The National Aquarium was joined today by honored guests, esteemed partners, elected officials and supporters from the community to officially unveil the National Aquarium Conservation Center and kick off its celebration of the Baltimore venue's 30th anniversary year.
In 2009 the National Aquarium board approved the formation of the National Aquarium Conservation Center and appointed Dr. Erik Rifkin as its interim executive director. The National Aquarium Conservation Center is the next stage in the National Aquarium's growth from a successful attraction with conservation as its primary message, to a nationally-recognized and respected conservation Institute that measures success in how it impacts people and the environment.
"Since opening in 1981, the National Aquarium has evolved from being one iconic building in Baltimore to an Institute, with conservation at its core, that operates two exciting attractions and serves as a dynamic education resource," commented Dave Pittenger, executive director. "We have a rich history of conservation initiatives on the Chesapeake Bay, around the world in places like Bahamas and Costa Rica, and through our Marine Animal Rescue Program. And now this Conservation Center will build upon our strong legacy of service to the environment."
Through pioneering science and partnerships with like-minded organizations, the National Aquarium Conservation Center will focus its efforts on the protection of aquatic ecosystems worldwide through scientific research, education, and advocacy. The National Aquarium Conservation Center will also be a voice and advocate for work the Aquarium already has underway, including long-term initiatives to protect coral reefs, to control lion fish proliferation, and to restore Chesapeake Bay wetlands and shoreline..
"This research and advocacy entity gives the National Aquarium another means to tackle pressing issues that impact the aquatic environment, and to advance as a global conservation center of excellence for marine conservation," explains Dr. Rifkin. "In just one year we have established solid partnerships with like-minded organizations and already have several exciting research studies underway."
The initial emphasis of the National Aquarium Conservation Center includes coastal ecosystems and watershed health, ocean health, environmental advocacy and ecological aquaculture. Some of this work is already underway. The National Aquarium Conservation Center has formed dynamic partnerships and begun research initiatives with respected organizations including Mote Marine Laboratory, the University of Maryland's Center of Marine Biotechnology and Johns Hopkins University's Center for Contaminant Transport, Fate, and Remediation.
Already, the Conservation Center is leading several research initiatives that will increase understanding of mercury levels in wild and captives dolphins, quantify sediment contaminant in the Baltimore Harbor, protect spotted eagle rays, and promote the future of aquaculture.
This includes a comprehensive study currently underway in Florida's Sarasota Bay, designed to ensure that pre- and post- Deepwater Horizon oil spill impact status on the bay's habitats and biota is documented as rigorously as possible in order to enable scientists to demonstrate causality between the release of oil and injured resources and/or lost human use of those resources and services. As a result of that initiative, Dr. Rifkin was invited to testify to a United States Senate subcommittee about the importance of independent research in the wake of ecological disasters like the oil spill in the Gulf.
Much of the National Aquarium Conservation Center's work lies ahead. Dr. Rifkin, colleagues and partners will be exploring initiatives with other aquariums, processes for sharing learning and knowledge with peers in animal husbandry, how to incorporate scientific findings into exhibits at display venues in Baltimore and Washington, DC and into public communications, and advocacy work for dolphins and small cetaceans in the wild.
"Human impact on the world's ecosystems is profound. As habitats are destroyed or degraded, the diversity of species and the complex relationships among them are threatened, with consequences for all living things – including humans," commented Bill Roberts, chair of the National Aquarium Institute board. "Zoos and aquariums have both the capacity and the responsibility not to simply increase public awareness of conservation issues but to take action. The National Aquarium is ready to do more."
About National Aquarium
The National Aquarium is a non-profit, nationally recognized aquatic display, education and conservation organization with locations in Baltimore, MD, and Washington, DC. Through transforming experiences, the National Aquarium inspires people to enjoy, respect, and protect the aquatic world. The National Aquarium is globally engaged in aquatic conservation from Chesapeake Bay to Costa Rica; a world-class entertainment attraction with engaging exhibits; committed to education with programs that connect children with the aquatic environment; a sought-after partner with alliances around the world; and the #1 tourist attraction in Maryland and unique in Washington, DC, with more than 16,000 animals in its living collections.
The National Aquarium Conservation Center is a newly-formed entity of the National Aquarium Institute. Through pioneering science and partnerships with like-minded organizations worldwide, the NACC is committed to conducting conservation research necessary to understand, interpret and explain aquatic ecosystems and to advocate for ocean health.
###