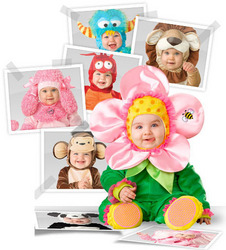 Edison, NJ (PRWEB) September 7, 2010
Costume SuperCenter, one of the world's largest online costume retailers announces their first annual Cutest Baby Costume Contest. Costume SuperCenter is sponsoring this contest in conjunction with InCharacter Costumes. At total of $2500 in cash prizes will be awarded. The grand prize is $1000 in cash plus a professional photo shoot near the winner's home and a keepsake portfolio. The child will also be featured in the Costume SuperCenter infant/toddler section of their website in 2011. The total retail value of the grand prize is valued at $1500. Second prize is $500, Third prize is $300, and Fourth through Tenth prize will each be awarded $100.
The contest is open to all children ages 0-4 years old who fit into infant/toddler sized Halloween costumes. The child must be wearing one of the qualifying costumes to be eligible to for the contest. Parents can view and order one of the qualifying InCharacter costumes at Costume SuperCenter's Contest Detail Page.
Parents, family, friends and the general public can go to http://www.costumesupercenter.com/cutestbabycostumecontest.html to enter the contest, view the contestants and place votes. Voters can place one vote per day until the contest ends. In the event of a tie, Costume Supercenter will decide the winner. The contest runs from September 1, 2010 through November 10, 2010. Winners will be announced on November 15th.
About CostumeSuperCenter.com:
In 2005, Steve Mandell, founder of Party City decided to leverage his expertise in the Halloween costumes business to create a costume website that makes purchasing costumes simple and convenient. Mandell recognized the need for increased selections, high quality and more fashion savvy designs in the marketplace and that costumes should be available year round at low discount prices. Thus, CostumeSuperCenter.com was born.
The online store features thousands of different costumes and accessories for people of all ages and pets too. CostumeSuperCenter.com also has one of the largest selections of hats, wigs, masks, accessories and make-up.
###